In a Nutshell
In a Nutshell
Smart, visually-stunning, easy to use. Wix has become one of the world's most popular website builders due to the right combination of user experience, beautiful templates, and a marketplace for apps that can make any website look—and perform—like it was designed by a team of professionals. This Wix website builder review looks at the pros and cons, pricing and features.
Positive
Intuitive, easy-to-use even for first-time website designers
More than 500 beautifully-crafted templates
Negatives
You can't migrate your old content to a new template
Fewer Ecommerce options than some competitors
Who Should Use Wix?
Who Should Use Wix?
People building their first website, who are novices at web design
Bloggers
Small business owners
The simplicity of Wix makes it a great choice if you are looking to launch a website but are intimidated by the thought of designing a site on your own. You might think you need to know how to code or take an online course first, but Wix does a great job of leading you through the process no matter your level of expertise. The Wix Help Center is an extensive and informative knowledge base where you can find answers to your web design questions. Wix has also invested a great deal in producing video tutorials to show how to use the sitebuilder effectively.
Wix's 500+ beautifully-rendered templates are ideal for small business owners who want to showcase their brand. With Wix, a brewpub owner or small-scale clothes designer can highlight their offerings on a site that will really make photos and logos pop, and which is easy enough to design that they don't need to worry about losing valuable time wrangling with a website.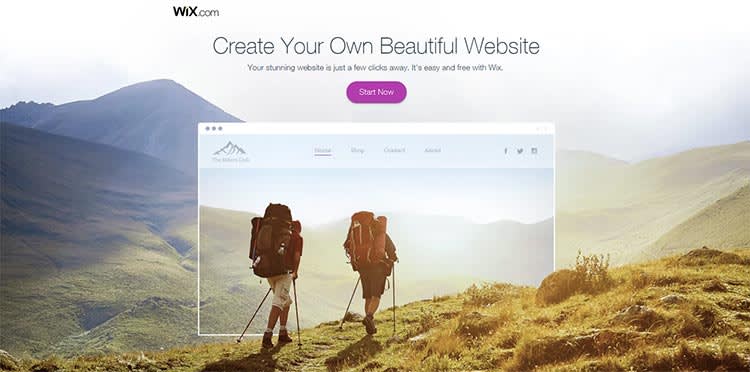 Ease of Use
Ease of Use
Imagine you've got an empty tray and you're heading down the salad bar, grabbing a little bit of this, a little of that, arranging it on your tray just the way you like and it's all up to you. It's a similar experience with the Wix drag-and-drop interface, where the site is a canvas that you move around and paint as you see fit.
It really only takes a few minutes to get the hang of using the system, which is one of the most intuitive anywhere. Simply pick a template that you like (with more than 500 options this might take you longer than you think) and start playing around with it. You don't even need to sign up for a paid account before you can start testing out the system. Think of Wix as a visually-based system—you don't need to understand or write code—you just need to manipulate the canvas you see before your eyes until it looks the way you want.
Wix also includes extensive help features, including a knowledge base you can access from the editor, as well as hundreds of tutorial videos online.
Another thing that simplifies Wix is the fact that all content is hosted on Wix servers, so you never have to worry about managing a web hosting account.
Template Design Options
Template Design Options
A major part of the visitor experience when they come to your website is how it looks and that crucial first impression when the homepage loads. With Wix you can definitely put your best foot forward, with more than 500 beautiful, richly-designed templates split across over 70 different categories. With so many templates you can get pretty niche, from templates suited to political blogging or a cupcake trailer, allowing you to find something that perfectly matches the image you want for your site.
Go to the templates section of the Wix website and you can scroll through the available templates one by one. You can scroll over any template and click "info" to see an explanation of it, including which type of sites it's best suited to. You can press "view" to get a demo of how the site looks, or just press "edit" to start working on the template and putting the pieces together how you like. Wix also allows you to select a blank template, and design the entire template by yourself, step by step, if you'd like.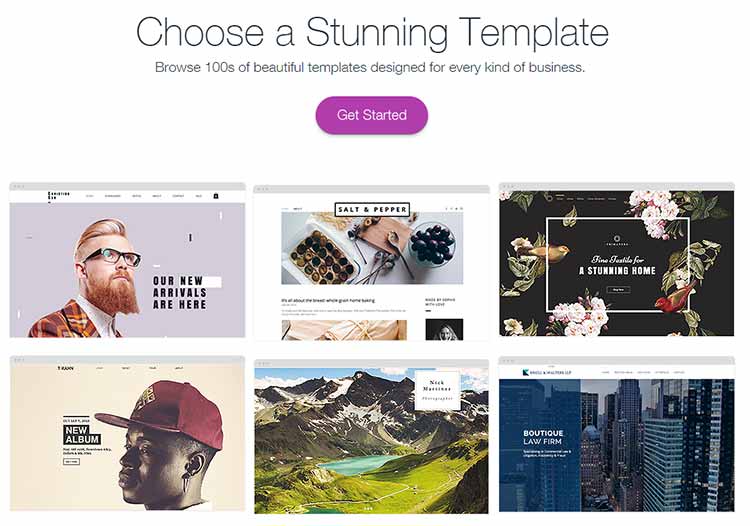 Wix Pricing: How Much Does it Cost?
Wix Pricing: How Much Does it Cost?
Wix offers a number of different plans at varying prices, which we'll explore to help you find the best plan for your needs. There is a free plan, and 5 premium plans, which increase in price as they add more features and functionality.
Wix Free Plan
All it takes to start building a website with Wix is a username and password. You don't have to pay a dollar to choose a template and customize it with Wix's drag-and-drop editor, or let Wix's Artificial Design Intelligence (ADI) build your website for you in minutes.
However, there are a couple of big drawbacks to a free Wix site that make spending a little money on a premium plan a necessity.
With a free Wix website, you don't have your own unique site address, such as www.mysite.com, but rather, you will have a Wix URL like, http://username.wixsite.com/mysite. In addition, a free Wix website will feature advertisements for Wix on your homepage.
The free plan is essentially an unlimited free trial in which you can design a site and become familiar with some of Wix's features. However, it is not a realistic long-term solution for someone who wants a serious personal or business website.
Wix Premium Plans In Detail
| | VIP Plan | Unlimited Plan | Combo Plan | Connect Domain Plan |
| --- | --- | --- | --- | --- |
| Monthly Subscription* | $24.50/month | $12.50/month | $8.50/month | $4.50/month |
| Bandwidth | Unlimited | Unlimited | 2GB | 1GB |
| Storage | 20GB | 10GB | 3GB | 500MB |
| Wix Ads | No | No | No | Yes |
| Free Domain for 1 Year | Yes | Yes | Yes | Yes |
| Ad Vouchers | $75 | $75 | $75 | No |
| Site Booster App | $60 value | $60 value | $60 value | No |
| | VIP Plan | Unlimited Plan | Combo Plan | Connect Domain Plan |
| --- | --- | --- | --- | --- |
| Monthly Subscription* | $24.50/month | $12.50/month | $8.50/month | $4.50/month |
| Bandwidth | Unlimited | Unlimited | 2GB | 1GB |
| Storage | 20GB | 10GB | 3GB | 500MB |
| Wix Ads | No | No | No | Yes |
| Free Domain for 1 Year | Yes | Yes | Yes | Yes |
| Ad Vouchers | $75 | $75 | $75 | No |
| Site Booster App | $60 value | $60 value | $60 value | No |
The Combo Plan
With the Combo Plan, the Wix ads are removed from your site and you get your own free domain for a year. The plan costs $8.50 per month for a yearly subscription.
What do you get for that price? Your site will run with 2GB of bandwidth, 3GB storage, and you'll get 30 video minutes for your site.
Probably goes without saying that you'll also be able to use the rich, artfully-crafted Wix templates and the easy-to-use drag and drop interface will make web design a cinch, really.
The Unlimited Plan
Wix's most popular plan is the Unlimited Plan, which is geared toward entrepreneurs and freelancers. As the plan's name suggests, it comes with unlimited bandwidth and 10GB of storage.
The Unlimited Plan costs $12.50 per month for an annual subscription. You will receive a free domain for 1 year, $300 in ad vouchers for Google, a form builder app ($75 value) to collect leads or put any other type of form on a website, and a site booster app ($60 value) which helps sites get found on search engines such as Google.
The VIP Plan
The VIP plan, gives you everything that you get with the Ecommerce Plan and more. You get unlimited bandwidth and 20GB storage, no Wix ads, a shopping cart to sell products online, 10 email campaigns per month and a professional site review.
The plan is $24.50 a month for an annual subscription, $23 per month for a 2-year subscription, and $30 a month on a month-to-month basis. monthly subscriptions do not include a free domain for 1 year, $75 in ad vouchers, the form builder app, or the site builder app.
This is a good option for those that want to sell goods online who require more bandwidth than the Ecommerce Plan offers. In addition, the email marketing feature that is included in the VIP plan is a valuable tool if you're looking to grow your business. Unlike with the Ecommerce Plan, the VIP Plan also allows you to maximize your site's effectiveness with the professional site review, in which Wix experts review your interface and SEO to make sure you have the best possible online presence.
The Ecommerce Plans
Businesses that want to sell physical or digital products online will have to sign up for one of Wix's business or Ecommerce plans. The plans come with unlimited bandwidth and 20-50GB of storage to ensure that you will have plenty of space to upload pictures of your merchandise.
There are 3 Ecommerce plans—Business Basic, Business Unlimited, and Business VIP, which cost $17, $25, and $35 per month, respectively.
Of course, the biggest advantage of the Ecommerce Plan is the shopping cart it includes to sell goods online and accept payments. The Ecommerce Plan allows your customers to buy multiple products, it gives you tools to track inventory, and discount coupon codes for your customers. You can also offer variations on an individual product, such as different sizes and colors. The shopping cart features shipping and tax rules to calculate the total price for your customers.
The Business VIP Plan
It's worth taking a closer look at Wix's Business VIP plan, the top tier Ecommerce deal offered by the company. You get unlimited bandwidth and 50GB storage, no Wix ads, a shopping cart to sell products online, social media logo files, priority response, and VIP support.
The plan is $35 a month for an annual subscription, and also comes with $75 in ad vouchers, the form builder app, and the site builder app.
The VIP Plan also allows you to maximize your site's effectiveness with the professional site review, in which Wix experts review your interface and SEO to make sure you have the best possible online presence.
Wix Features
Wix Features
Every paid Wix plan comes with hosting included, as well as the ability to connect your domain to the webpage. Once you start paying more, that's where the differences happen. With the most basic "Connect Domain" plan you also get 1GB of bandwidth and 500MB storage for $4.50/month, but you'll still have Wix ads on your site. By spending an extra $4/month for the Combo Plan you get 2GB bandwidth and 3GB storage. Every payment plan after the Combo Plan includes unlimited bandwidth, and the main differences are in terms of storage and the ability to run an online store, which is available in the Ecommerce and VIP plans.
The Unlimited, Ecommerce, and VIP plans all include $75 in ad vouchers, a form builder app and the Site Booster app. The VIP plan costs $24.50/month and also allows you to run 10 email campaigns/month for targeted marketing, and a professional site review is included.
Really it all depends on what you need for your site. If you're just running a simple blog to upload your writing and photos, then the Connect Domain plan could provide you enough bandwidth and storage and allow you to use your own domain. If you're looking to run an online store, you'll have to go with either the Ecommerce or VIP, both of which are good bargains. Bottom line, it's up to you, and Wix makes it easy to get yourself set up just right.
Summary of Wix Features and Prices:
| | VIP Plan | Unlimited Plan | Combo Plan | Connect Domain Plan |
| --- | --- | --- | --- | --- |
| Monthly Subscription* | $24.50/month | $12.50/month | $8.50/month | $4.50/month |
| Bandwidth | Unlimited | Unlimited | 2GB | 1GB |
| Storage | 20GB | 10GB | 3GB | 500MB |
| Wix Ads | No | No | No | Yes |
| Free Domain for 1 Year | Yes | Yes | Yes | Yes |
| Ad Vouchers | $75 | $75 | $75 | No |
| Site Booster App | $60 value | $60 value | $60 value | No |
What Do You Get for Free with Wix?
What Do You Get for Free with Wix?
You can start a Wix page today free of charge and be up and running in 5 minutes. With a free plan though, your site won't be linked to your own domain and your site will have "powered by Wix" ads featured prominently on the homepage. The free plan is a great way to try out Wix with no strings attached, but you won't get the full experience of running a premium Wix site; Besides, having Wix ads and a Wix URL on your personal website isn't the best look for a business trying to project an image of success online, so it's worth it to check out the paid options.
Unique Features
Unique Features
Parallax Scrolling
Parallax scrolling is a web design effect that creates an immersive experience for viewers. In parallax scrolling, the site background and foreground are separate, and as a reader scrolls down, the two sections move at different speeds creating a feeling of depth on your site. It's a truly unique way to incorporate large, captivating images with text and can increase the time that users are on your site and how long they stay on particular articles.
Slideshows
This feature allows you to showcase your images and other content on a variety of slideshow galleries that can increase engagement and the time users are on the site.
Wix Gallery
The Wix Pro Gallery is another way to really improve the appearance of your images, including the radius and threshold among many other aspects. You can also make every image shareable on social media. Whether you're a blogger or a small business owner, a small touch like this requires little effort and can vastly improve the visibility and elegance of your site.
Wix's Artificial Design Intelligence (ADI)
Wix sees the ADI feature as "our biggest innovation to date," and it does sound like the type of thing that has the potential to be revolutionary. The feature uses an algorithm to build your website automatically, after asking a few questions to gauge you and your business's or website's needs. You can always edit and tweak the ADI designed site however you see fit.
ADI can be a game-changer not just while building your site but updating it as well, as it makes it easier to reassess the performance of your website and experiment with different approaches. The best part is that you can retain full autonomy over the results afterwards. Give it a shot on your site, see how it can work for you, there's nothing like it out there.
Wix's App Market
The Wix App Market gives you options to take your site to the next level. There are literally hundreds of apps, made by Wix and third-party providers that can handle everything from SEO to Ecommerce solutions, scheduling solutions, and image and video tools. Many of these apps are free and there are also several premium apps. The app store is a great way to build your site to your very specific needs, step by step, in an a la carte fashion, making it the best site it can be.
Video Backgrounds
Spice up your website by adding a background video. It's free from Wix videos and you can easily upload your own video. The videos do not play music themselves, but you can also add your own music to play automatically when the page loads. It is worth noting that the video backgrounds won't display on the mobile-friendly version of your site.
What About Ecommerce?
What About Ecommerce?
Among the hundreds of Wix templates,60 are designed specifically for online stores. When you sign up for Wix you have 2 separate plans for online stores. These are the Ecommerce plan at $16.50/month, and the VIP plan at $24.50/month.
Both plans are very similar – both include unlimited bandwidth and 20GB storage—but the VIP plan provides you with a professional site review and 10 email campaigns a month, which you could utilize to increase your company's promotional activities and outreach with customers. Wix Ecommerce solutions also accommodate the use of coupons and discounts which you can use to attract new customers.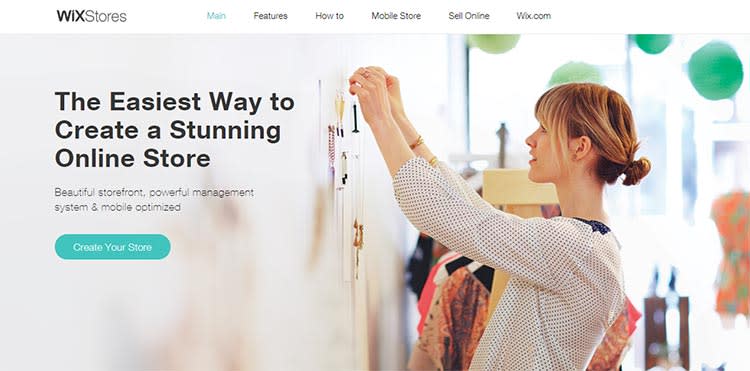 Wix online stores help you easily track your sales and manage shipping, and also integrate PayPal to handle transactions, all of which are kept secure.
One problem with Wix business solutions is that they do not include automatic Facebook integration. If you want to get your website up on the world's largest social media network, and make sales directly through Facebook, you'll need to install a third party app on the Wix market. The app is made by Shopial and costs $6.99/month. You can also download a free version, but it only lets you display up to 9 items.
Wix's SEO Wiz
Wix's SEO Wiz
The SEO Wiz analyzes your website, identifies where it lacks in terms of search engine optimization, and draws up a plan for how to improve your rankings. The tool then offers you a step-by-step checklist that's basically an outline of exactly what you have to do to get better results. It offers useful tips such as how to improve your rankings by tweaking elements like your meta tags, URLs, and heading tags. The wizard will walk you through important SEO strategies like using hyperlinks and keyword phrases properly, choosing the right keywords, and adding tags to images. Additionally, Wix gives business owners an in-depth look at mobile optimization, the future of all commerce everywhere. All the while, the tool links you to articles and resources that offer you a closer, more in-depth look at the various topics it's discussing.
According to Wix, anyone can benefit from this tool, whether you're an expert in SEO or just starting out. While the tool is handy for updating your site quickly and easily, beginners to the world of Ecommerce or SEO will really gain the most from the SEO Wiz. The tutorials, step-by-step process, and helpful tips at every step of the journey are invaluable if you have trouble getting your head around the SEO concepts or even if you just don't have time to invest in learning and implementing smart SEO tactics.
Blogging Tools
Blogging Tools
While other website editors use the same editor for blogs, Wix has a special blog posting interface that you can use if you'd prefer.
Starting a Wix blog is as easy as you'd expect. You just sign into your account, pick a blog template and then open the Wix Blog Manager and create a new post.
You can then create categories for your posts and organize accordingly, and also schedule them for later publication, or just post them immediately. You can choose a different design scheme for your blog, or just keep the one you have on the rest of your site.
Wix also lets users comment on your blogs and includes special sharing options.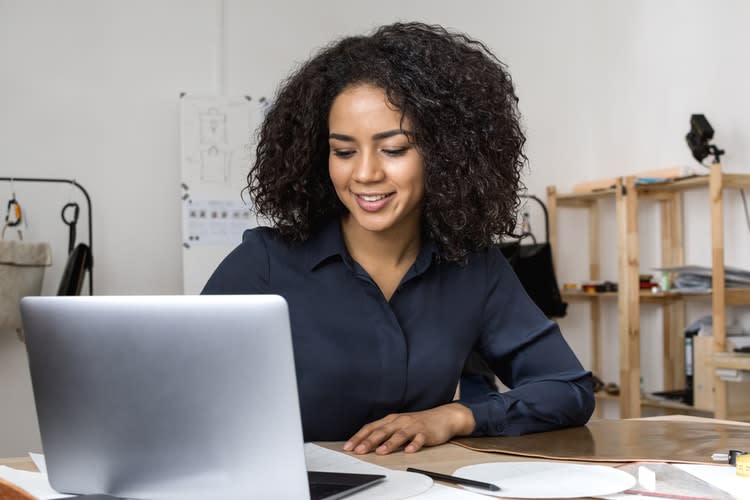 The Wix App Market also features a special blogging app called Wix Blog. The app allows visitors to join your blog and create member profiles and also upload photos and videos if you want to allow them. It's a way to create an interactive community between you and your readers, something that not every website designer can pull off. The app can also be accessed through the Wix editor, live site or mobile site.
Wix on Mobile
Wix on Mobile
The majority of potential visitors to your site have smart phones and use them on a daily basis. You need to make sure your site runs great on mobile devices, and with Wix you can set this up easily.
When you create a website on Wix, a mobile version is automatically created. Even better, Wix has a mobile editor which allows you to change the design of your mobile website without altering the desktop version.
In order to optimize your mobile version, just go to the website editor, and click on the mobile icon in the top left corner. This will take you to an editor where you can make all types of changes to the mobile version, without changing your overall site. You can check preview at any time to see how the site will look on a mobile device, and then publish when ready.
A site that has been mobile-optimized will perform better in terms of SEO, increasing your traffic by bringing both of your sites under a single URL.
Is Wix Safe?
Is Wix Safe?
On Wix you don't have your own dedicated server that you can run security for. Instead, your site is hosted on Wix's servers, and the company is responsible for your security. Wix says that the company uses full-time security experts and advanced security tools to stay ahead of any security issues, and regularly audits themselves in order to test the security system and ensure its effectiveness.
Wix also uses "multiple layer security architecture," which it says is geared to protect against zero-day issues. Also, your passwords and other information are stored securely in a highly encrypted manner, and even in the event of a hack, Wix says your password will be safe.
Your Wix site will be secured by HTTPS/TLS encryption, which is especially helpful to keep customers and their details safe while they're shopping.
Wix also lets you enable phishing and malware protection, which checks your online activity in order to gauge how much of a threat you face.
Third party developers agree to sign the Wix App Market Partner Program Agreement, which it says places restrictions on who they may access, what they can store and how they can use information provided to them, but also adds that Wix is not responsible for these companies' actions and advises users to read all security clarifications before deciding whether to install a third party app, or to put any outside integration on their site.
Customer Support
Customer Support
Wix has invested a great deal of man hours and know-how in developing one of the most extensive, easy-to-use knowledge bases of any website builder. This resource includes, articles and blogs, as well an FAQ section and videos that walk you through all aspects of running your Wix site. Chances are that anything you have a question about can be answered there, but if not, there are plenty of forums online where other Wix users share their issues and solutions. In addition, online you can easily find more than 300 Wix tutorial videos made by the company, which can walk you through all types of issues.
If you're still coming up empty, you can also check out the Wix support center. You can reach out to the company by filling out an online ticket with your questions, or you can contact the Wix call center during regular business hours PT.
If you have invested in a premium account, you'll enjoy premium support. This just means that any questions you have are given priority status, and you should receive an answer quicker than otherwise.
Bottom Line
Bottom Line
Designing a website isn't like designing a business card or an evite to a birthday party. It's a more complicated, in-depth process that takes real effort if you want to do it right. That said, with Wix this process is easier than ever.
Wix has an interface and overall user experience that has made it one of the world's most popular website builders, combined with beautiful templates and a striking appearance.
It's an ideal builder for blogs and personal websites, and also a great option for anyone running a small business that they would like to get online, not only because of the online store options, but also because the look of Wix will reflect very positively on the company that runs the site.
If you're the type that loves web design and getting up to their elbows in code, then Wix probably isn't for you. But if you're looking to launch a website for your business, a platform for promoting and selling, or just a striking personal website, Wix can host and build a website that will make it look like you had a professional on retainer.