In a Nutshell
In a Nutshell
Total Home Protection is a subscription home warranty service that offers to replace or repair household appliances and large household systems if they break down due to normal wear and tear. The company is also fully online, so customers can handle their accounts through their mobile device.
Positive
Pre-screened professional contractors
Affordable annual plans
Customizable plans
Negatives
Some basic items not covered on gold plan
Pricing isn't provided on site – requires quote
Highlights
Highlights
Fast and effective coverage – with 1 month free
24/7 support and low trade-service fee
Site is really easy to navigate, bold and straightforward
Warranty Coverage
Warranty Coverage
Total Home Protection's plans cover a wide variety of home appliances and systems, ranging from plumbing to water heaters, ovens, cook tops, and trash compactors. You'll have to upgrade from the Gold plan to the Platinum plan though if you want to also cover your air conditioning system, your heating system, and the refrigerator, clothes washer, and clothes dryer.
These last 3 items tend to be standard on the basic plans of most companies, so it's unclear why this requires an upgrade with Total Home Protection.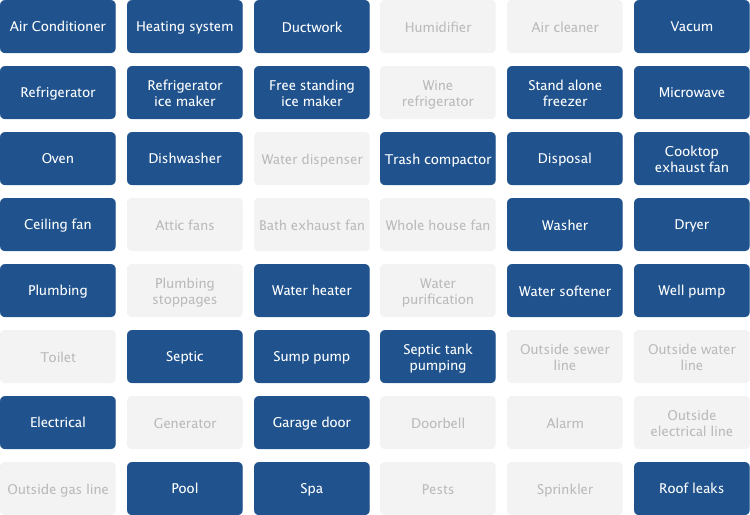 After filling out an online form, this reviewer was quoted $499 for a 13-month Platinum plan on a house under 5,000 square feet and $419 for a 13-month Gold plan on a house under 5,000 feet. The quote did not give prices for the premium plan or service call fee.
A wide range of other repairs like pool and septic system are listed under "optional," but no prices are given.
Terms & Conditions
Terms & Conditions
Total Home Protection provides information on the site's FAQ section and also through the blog, maintenance tips, and testimonials section.
The company's terms and conditions section on the website states that it will cover costs to repair or replace items listed as covered on the customer plan as long as the items become "inoperable due to mechanical failure caused by normal wear and tear." The determination of whether or not it is normal wear or tear is made solely by the contractor sent by the company.
The company will not cover known or unknown pre existing conditions, nor does it cover houses that are also used for commercial purposes, such as daycares, common areas of condominiums, and vacant properties.
After a claim is submitted, a contractor is hired within 2 days during normal business hours and 4 days on weekends and holidays. You may be required to pay extra if it is an expedited request.
The types of A/C units covered are very limited, and coverage does not include condenser casings, registers and grills, water towers, humidifiers, chillers, electronic air cleaners, window units, non ducted wall units, gas air conditioning systems, water evaporative coolers, swamp coolers, and more. The list is quite long, and the company also only pays $10 per pound for refrigerant; you have to foot the bill for the rest.
On the terms and conditions page the company includes an itemized list of what it will and won't cover for each household item, and for almost every entry, the list of problems that aren't covered is quite long.
Contractors
Contractors
All Total Home Protection contractors must be licensed for their trade, carry a minimum of $500,000 in general liability insurance, at least $250,000 per occurrence and provide proof of workers compensation insurance or a wave if the contractor is self-employed. They also need to have the same amount of auto insurance coverage.
If you'd like to learn more about the contractors, the website doesn't help. All of the contractors shown include only a first name and a stock photo, with no further details about who they are or where they work.
Transparency
Transparency
Prices aren't listed upfront on Total Home Protection's website, and you have to request a personalized quote in order to see how much you could be paying. The company's listed address is also the same address of a separate, unrelated company.
It should be noted that this company has earned low marks from consumers on online forums like Yelp, with many users stating that the company didn't cover repairs that were supposed to be included in their plans, and that contractors took much longer than 24 hours to arrive.
In addition, in the testimonials page, none of the people include their full name, and all of the portrait photos are stock photos. The same goes for the contractors, all of whom only include a first name, no further details, and a stock photo.
Customer Service
Customer Service
Customers can reach out to Total Home Protection by way of a toll free number in order to file a claim. The company says you can also do this by way of the online client portal, but the portal was down for maintenance when we tested it. You can reach out through the online chat, and you can get answers for your questions on the company blog and FAQ section.
Conclusion
Conclusion
Total Home Protection promises to cover a wide range of home repair needs, and the price is reasonable for a 13-month plan. That said, you'll really want to read the fine print very carefully, and shop around to learn more about the company and read customer testimonials.
Total Home Protection Review