In a Nutshell
In a Nutshell
Square Online Store helps power your online business with tons of eCommerce features. With their free plan, there's no monthly fee. You pay only 2.9% + 30¢ per transaction. Online stores built through the platform are only available for customers based in the US, Canada, UK and Australia. But for merchants living in those countries, Square is an affordable and reliable provider.
Positive
No coding knowledge needed
Supports syncing with internal inventory-tracking systems
Integrates with Square payments and other solutions
Negatives
Online stores available for US and Canada residents only
Loading times can be slow depending on inventory
Square Online Visit Site
Square Online Visit Site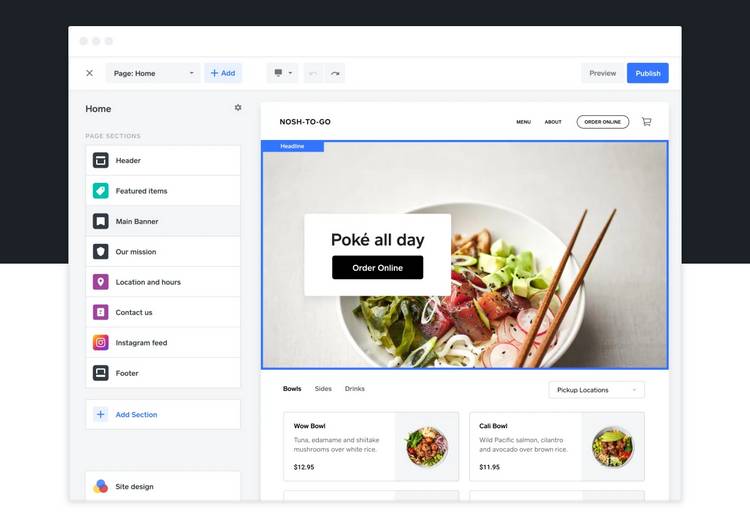 Ideal for
Ideal for
Square is a great choice for US and Canada-based businesses that want an easy-to-set-up online store, but who don't ship internationally.
Why Go With Square?
Why Go With Square?
Square has some advantages over other website builders that cater to businesses. These include:
Its user-friendly website builder allows online merchants to have a professional online store without coding experience
Its cost structure, which is based upon a small commission and fixed fee
The fact that it can seamlessly integrate with an externally managed inventory management system
Square automatically syncs orders and inventory to facilitate complete control of sales
Features
Features
Square's custom layouts make it easy for even the most code-averse merchants to create a professionally designed online store. You can tweak images, experiment with branding, and have creative control over the look and feel of your website.
Build Your Store Using Instagram
Square allows you to turn your Instagram feed into an online shopping experience. You simply connect your account to Square, tag items you want to sell and click "publish" to launch your own shoppable page, complete with checkout and payments.
Easy Inventory Management
With Square, it's easy to quickly add items to the store catalog. Users simply need to input the item name, assign it to a category, add a product image, and assign it a price. They can also configure low stock alerts and assign a Stock Keeping Unit (SKU).
If you want to incentivize your marketing contacts by offering them a promotional code, then Square makes it easy to do so. Shop owners can either create percentage-based discounts or fixed-priced discounts.
Square makes it easy to fulfill orders and keep track of retail products going out for delivery. Retail merchants can set flat shipping rates or use the built-in shipping calculator to calculate shipping costs based on price, weight, quantity, and more. You can also print out shipping labels directly from the dashboard.
Plan
Free Plan
Professional
Performance
Premium
Price
Free
$12/month
$26/month
$72/month
Customization
Customization
Square lets users customize many details of their online stores.
For instance, users are able to apply their preferred color scheme for their digital receipts and invoices.
Additionally, users can add custom logos and locations to their automatically generated documentation as well as text annotations about return programs.
Finally, users are able to add contact information, including their store's website and social media accounts, to all receipts and invoices produced through the system.
For those that want to take things further and pull out customized reports based on activity in the online store, Square also integrates with a number of analytics platforms such as IFTTT. For those managing large inventories, the tool also integrates with Shopventory, Stitch Labs, and DEAR Systems.
Using these tools, stores can freshen and customize their displayed inventory without having to manage everything directly through the Square backend.
Of course, merchants are also able to edit the appearance of their online stores themselves. This can be achieved by selecting from one of the themes on offer and altering header image sizes.
Payment Processing
Payment Processing
As well as offering an Ecommerce online store builder, Square is also a payments processing gateway. This works with all major credit cards—so merchants can take these directly via their Square websites.
Additionally, Square offers a Payments API, which can be used to integrate with third party systems
SEO Tools
SEO Tools
Square doesn't include out-of-the-box SEO features. However, it encourages store owners to optimize their pages to make them as visible as possible for search engines.
Customer Support Services
Customer Support Services
The Square Support Center is the 1-stop shop for support for all Square products, including Square Online Store.
Unfortunately, at the time we wrote this review, we found that documentation about Square Online Store was badly lacking. While there are a few FAQ packages and some community threads, the online documentation provided could be a lot more extensive.
Nevertheless, those that do need to reach out to the company for support can do so by opening a support ticket. The average estimated waiting time is in the region of 24-48 hours.
Review in Short
Review in Short
Square Online Store is a great platform for online sellers that are based in the US or Canada. For those selling internationally, this might not be the best fit on the market. Since Square acquired Weebly it has been able to integrate its drag-and-drop functionalities into the builder, allowing users to easily create pixel perfect product listings. Additionally, users can integrate third party inventory management tools with the product, although it's not the ideal Ecommerce platform for large international merchants. The one downside is its support documentation, which is currently quite limited.
Led by CEO Jack Dorsey, Square's mission is to simplify access to Ecommerce. The company now has more than 3,000 global employees and is headquartered in San Francisco, California.