In a Nutshell
In a Nutshell
SoFi is a leader among student debt consolidation companies. Its flexibility of terms and rate options coupled with low interest rates makes it a standout choice for recent graduates.
Positive
Unemployment protection
Co-signing is available for refinancing loans
Negatives
Shortest available loan term is 5 years
Consolidation forfeits government loans forgiveness
SoFi at a Glance
SoFi at a Glance
APR
Starting at 2.24% (with autopay)
Loan types
Student loans refinancing, medical resident refinancing
Refinance amount
Up to 100% of outstanding debt amount
Repayment terms
5 to 20 years
Minimum credit score
Good credit
Best for
Upwardly mobile graduates who want long loan terms
In 2011, four graduates from the Stanford Graduate School of Business founded SoFi as a company committed to helping people pay student debts in a timely way. The dedication to lowering customers' student debt payments have made it one of the most popular and fastest growing companies in the industry.
Best For?
Best For?
SoFi has over 250,000 members who have saved a total of over $18 billion on student debts from the more than $10 billion in loans. SoFi prides itself on the ability to service customers' needs, which is why it was the first marketplace lender to receive a Moody's top credit rating of AAA for a bond offering.
Customer Care
Customer Care
SoFi's creditworthiness selection process is forward looking and takes into account a potential borrower's education history and upward mobility. For that reason, if a customer becomes unemployed, SoFi will pause payments and help with job placement and coaching.
SoFi Student Loan Refinancing Highlights
SoFi Student Loan Refinancing Highlights
Fixed rates from 2.99% (with autopay) APR, variable rates from 2.24% (with autopay) APR, with AutoPay
Checking rates will not affect your credit score
If you face unemployment, SoFi will pause payments and offer interview coaching, resume review, and negotiation training.
Loan terms: 5-, 7-, 10-, 15- and 20-year
No application or origination fees and no prepayment penalties
Autopay discount of 0.25%
$5,000 minimum to refinance, no maximum amount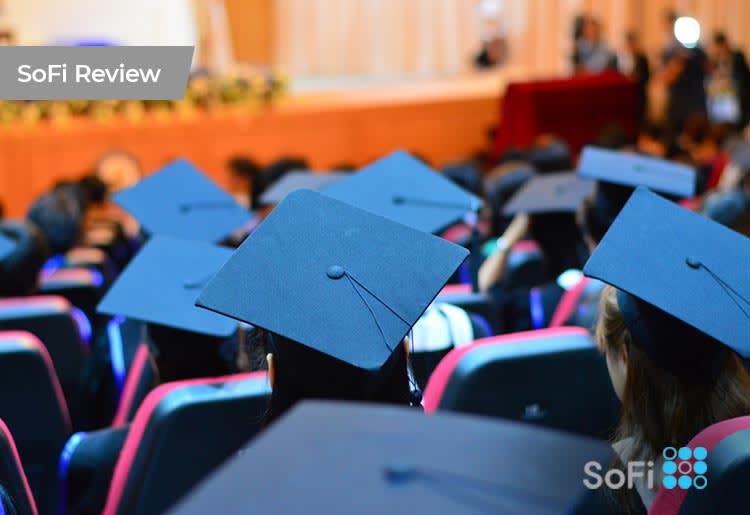 Information and Support
Information and Support
Articles
SoFi offers customers an extensive library of articles, informative reading material along with tools tools to help borrowers understand the bigger picture. The blog hosted by SoFi provides over 200 articles on various lending and general personal finance topics.
FAQ
SoFi's FAQ section guides users through the entire student loan refinancing process so that borrowers fully understand their options.
Calculators
SoFi provides customers with several calculators and a student debt refinancing guide to ensure customers have all the information they need to make their borrowing decisions.
Customer Support
SoFi provides significant support services. For customers who have become unemployed, SoFi offers interview coaching, resume review, and educates customers with negotiating tactics services to help them find a new job. Furthermore, if customers need any help, SoFi's customer support experts are available by phone, email and Twitter 7 days a week during business hours.
Types of Debt
Types of Debt
SoFi customers can refinance both secured and unsecured debt. Therefore, SoFi customers can refinance their student loans whether they were issued from a private lender or the government.
Repayment Plans
Repayment Plans
SoFi is one of the few companies in the industry that provides borrowers with the choice of fixed rate or variable rate loan options. Additionally customers are offered a choice of 5 different loan term options, 3-, 5-, 7-, 10-, 15-, or 20 years, so that customers can repay their loan in a time frame that best suits their financial circumstances. SoFi 's student debt consolidation loans have some of the longest terms in the industry and are specifically designed for recent school graduates who may need a longer time frame to pay down their debts.
SoFi's Application Process
SoFi's Application Process
Getting a rate quote from SoFi requires an application form that takes approximately 10 minutes to fill out. Potential borrowers must give the same basic information they would for any loan. In addition, prospective customers must enter detailed education and employment information, as this information is critical for SoFi's creditworthiness assessment. If a borrower does not meet the lending qualifications on their own, SoFi offers a co-signing option.
Conclusion
Conclusion
SoFi is one of the most reputable student debt consolidation companies in the alternative lending business. The flexibility of terms and rate options coupled with low-interest rates makes it a standout and favorite among recent graduates. If a borrower loses their job, SoFi will adjust payment plans and help them find a new job, the mark of a company that cares about its customers.
**Student Loan Refinance Disclaimer

Fixed rates from 2.99% APR to 6.28% APR (with AutoPay). Variable rates from 2.25% APR to 6.28% APR (with AutoPay). Interest rates on variable rate loans are capped at either 8.95% or 9.95% depending on term of loan. See APR examples and terms. Lowest variable rate of 2.25% APR assumes current 1 month LIBOR rate of 0.18% plus 2.32% margin minus 0.25% ACH discount. Not all borrowers receive the lowest rate. If approved for a loan, the fixed or variable interest rate offered will depend on your creditworthiness, and the term of the loan and other factors, and will be within the ranges of rates listed above. For the SoFi variable rate loan, the 1-month LIBOR index will adjust monthly and the loan payment will be re-amortized and may change monthly. APRs for variable rate loans may increase after origination if the LIBOR index increases. See eligibility details. The SoFi 0.25% AutoPay interest rate reduction requires you to agree to make monthly principal and interest payments by an automatic monthly deduction from a savings or checking account. The benefit will discontinue and be lost for periods in which you do not pay by automatic deduction from a savings or checking account. The discount will not reduce the monthly payment; instead, the interest savings are applied to the principal loan balance, which may help pay the loan down faster. Enrolling in autopay is not required to receive a loan from SoFi. *To check the rates and terms you qualify for, SoFi conducts a soft credit inquiry. Unlike hard credit inquiries, soft credit inquiries (or soft credit pulls) do not impact your credit score. Soft credit inquiries allow SoFi to show you what rates and terms SoFi can offer you up front. After seeing your rates, if you choose a product and continue your application, we will request your full credit report from one or more consumer reporting agencies, which is considered a hard credit inquiry. Hard credit inquiries (or hard credit pulls) are required for SoFi to be able to issue you a loan. In addition to requiring your explicit permission, these credit pulls may impact your credit score. Terms and Conditions Apply. SOFI RESERVES THE RIGHT TO MODIFY OR DISCONTINUE PRODUCTS AND BENEFITS AT ANY TIME WITHOUT NOTICE.