In a Nutshell
In a Nutshell
RingCentral brings a strong set of capabilities with a large selection of call features including mobile integration, sophisticated PBX features, and unlimited SMS. The extensive feature set comes with no contractual requirement and at a competitive price, providing plenty of scalability so that services can grow with your business.
Positive
Free phone offer for new customers
Mobile integration with remote management
Negatives
It can be time consuming to manage several users
Web portal can become sluggish
RingCentral offers a variety of pricing levels including Essentials, Standard, Premium, and Enterprise, which are based on a per-user cost and vary depending on whether or not you want an annual contract or a per month plan. Furthermore, the per-user cost will vary depending on the number of users and features you are interested in.
| Packages: | Monthly price | Toll-free minutes | Max per meeting |
| --- | --- | --- | --- |
| Essentials | $19.99/month | 100 | 4 people |
| Standard | $24.99/month | 1,000 | 4 people |
| Premium | $34.99/month | 2,500 | 100 people |
| Ultimate | $49.99/month | 10,000 | 200 people |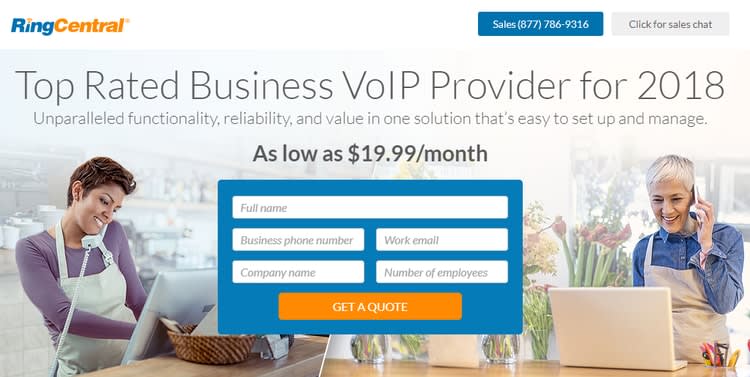 The Essentials Plan starts from $19.99 per month, per user and includes the basic VoIP features you need for your small business. This includes unlimited phone calls and business SMS, call management tools and 100 toll-free minutes. There are also mobile apps for both iOS and Android, as well as HD voice and 24/7 customer support. This plan is suitable up to 10 users, so if you need more than that you will need to look at the Standard Plan.
The Standard Plan starts at $24.99—though this can be reduced if you have a large volume of users—and includes all the features you'll need if you're a growing small business. The RingCentral system is designed more for medium- to large-sized businesses and enterprise corporations, and most of its customers will likely be more interested in the extended Premium and Enterprise plans. That's where you'll find the full range of features including integration with applications like Salesforce, Zendesk, and Desk.com.
Standard Plan includes full call management, mobile apps for iOS and Android, unlimited calling, 1,000 toll-free minutes, unlimited conference calling, unlimited business SMS, unlimited video conferencing with screen sharing (for desktop and mobile) for up to 4 connections, log reports, and multi-level auto-attendants for the $24.99 per month, per user.
This pricing tier is not so simple though. The quoted $24.99 is for an annual contract that includes 2 or more users. A single user will cost anywhere from $34.99-$49.99 per month depending on the contract length. The good news is that the more users you have, the lower the price gets. For 2-19 users, the monthly fee for the annual plan is $24.99; 20-99 users drops the price to $21.99, and 100+ users costs $19.99 per user, per month.
The Premium Plan is the middle ground and the most popular. This includes everything from the Standard Plan but upgrades the services. Instead of 1,000 toll-free minutes, Premium Plan holders get 2,500 minutes; instead of 4 people per video conference, this plan includes up to 50; and features that aren't included in the Standard but do come with the Premium Plan include custom app development/deployment, caller ID, HD voice, automatic call recording, smart integration with CRM systems like Salesforce, Zendesk, and Desk.com, and single sign-on. Once again, the pricing is staggered depending on the number of users: 1 user – $44.99, 2-19 users – $34.99, 20-99 users – $31.99, and 100+ users $29.99. The pricing increases, however, if you opt for the monthly plans.
The Enterprise Plan is for serious corporations that need to get the most out of their communications management service. Upgrades for this plan include 10,000 toll-free minutes, 75 people per video meeting, and voicemail to text, a convenient feature for long board meetings. Pricing tiers are based on the same number of users as other plans and decrease accordingly from $59.99, $49.99, $44.99, and $39.99. Note: RingCentral upgraded its Enterprise package to include more comprehensive support that will be discussed below.
Drawbacks to Pricing Plan
Drawbacks to Pricing Plan
The lack of unlimited toll-free minutes is disappointing, but the plans do come bundled with minutes from 1,000 minutes in the standard plan up to 10,000 minutes at the enterprise level.
At $34.99 per user, per month for the Premium plan, it's definitely a bit more expensive than other VoIP services that offer comparable features.
Extended Enterprise Support
Extended Enterprise Support
Recently, RingCentral upgraded its Enterprise package offering even better features for the professional customer. In addition to the standard suite of features and tools, Enterprise level plan holders now have access to a dedicated team of service and support professionals for personalized assistance. Services include technical account managers and customer success managers. These are basically private consultants who know your business intimately and can advise the best approaches for deployment, management, and conflict resolution.
Known as Extended Enterprise Support, the service is built around the idea that evolving enterprises require a more involved approach to their communications services, and RingCentral wants their plans to assist them with this fluctuating need. With ever-changing needs, professional businesses need to be able to tailor their capabilities to meet these demands, and this upgrade in service support is meant to accommodate them.
The Extended Enterprise Support service is mostly directed at IT companies, but more support is probably a good idea for everyone. It will definitely be a major addition for businesses trying to juggle multiple locations, requiring unique business demands, or managing unusually complicated infrastructures. The feature comes with the Enterprise level package and requires a minimum number of users to qualify.
The Extended Enterprise Support plan could be a good option for you if you are having issues with deployment, integration, or training beyond the standard troubleshooting. Some of the features businesses will enjoy with this extended plan include:
A dedicated account manager to handle all technical and account issues.
Expedited troubleshooting and problem resolution.
A more involved support experience including constant notifications when problems arise.
In-depth reports based on quarterly assessments to help businesses apply better business practices for more efficiency and less downtime.
Customer Service
Customer Service
RingCentral has you covered when it comes to customer service and support. Before contacting the 24/7 support team, the RingCentral website offers a wealth of info in its FAQ and knowledge base along with video tutorials and articles to ensure your VoIP account is running smoothly.
If you do need to get in touch with a rep, you can use the live chat feature on the website. There's also a customer community where you can benefit from other customers' experience and learn how to better utilize the VoIP phone in real world situations.
There's even a service status ticker in the support center to let you know if there are any known issues or service interruptions.
Along with call-in support, you can consult with RingCentral as your business grows including for onsite deployment and testing to get your VoIP exactly where you need it. Where this really gets extraordinary is when you consider the Extended Enterprise Support we mentioned previously. This all-inclusive option really offers businesses tailored customer support for every step and any eventuality. Even basic level plans, however, come with good, solid, and helpful support options.
Future Scaling
Future Scaling
RingCentral is like a massive buffet of features. There are plenty of VoIP phone systems available with a similar setup process but what sets this VoIP service provider apart is the massive feature list packed into the plans.
That includes a virtual receptionist, hold music, message alerts, away messaging, directories, call trees, forwarding to mobile and mobile integration, call groups, call escalation, call queues, fax integration, conference call bridging, SMS, call logs, video conferencing, and recording.
You may not utilize all those features initially, but the intuitive dashboard and ease of setup makes it extremely easy to update your configuration as your business grows and users are added. If you expect to grow to a high volume of users, you'll wind up upgrading to an enterprise plan which increases the overall cost per user, but the feature-rich system will have you covered for years to come.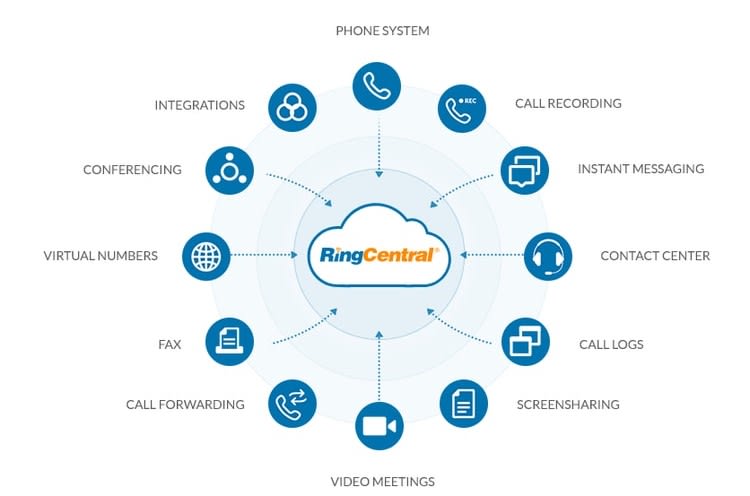 Additional Features of Interest
Additional Features of Interest
RingCentral offers businesses of every size the ability to manage and distribute their communications needs in a professional and efficient way. In addition to the features mentioned above, the RingCentral offering includes:
A free trial is always a nice benefit, especially when you are dealing with complex services like VoIP communications management. With all the components, features, and systems of the full service, this free trial gives you the ability to test out the various aspects before investing in the costly venture.
This doesn't mean much to the average Joe, but it is actually an important feature. It ensures reliability, quality calling and service, and faster upgrades. What's even more impressive about RingCentral is that it maintains a solid network in Europe, Asia, and the US, something many other VoIP providers cannot compete with. What this all translates to for you is better quality and faster, clearer service.
Another feature not for the simple call agent, a developer platform gives programmers and developers the ability to build custom app integration. Roughly translated, with the right IT, your business can use RingCentral's customizable platform to integrate with any other system you are running.
Ease of Setup and Management
Ease of Setup and Management
It was refreshing to see a setup process that was a snap. Registration is easy, and you'll receive your assigned phone number (you can also port your own over or get a vanity number) via email. Once you have your number in place, you can log in to the web portal to create extensions, configure call groups, define queues, or define rules for forwarding, voicemail storage, and even call blocking.
Setup will vary slightly depending on whether you intend to use the softphone or mobile app exclusively or are planning on incorporating hardware. If hardware is required, Session Initiation Protocol (SIP) phones are the ones to use. These can be from nearly any vendor including generic models or bigger brands like Cisco, Yealink, and PolyCom. Softphone and mobile app setup are even easier, simply connecting to the system via the mobile device you are using.
The interface on the back end of RingCentral is slick, but for a first-time VoIP user, it can be a little confusing. This kind of a learning curve can be expected with a feature-rich VoIP system. After spending some time navigating the system, most users will eventually be able to memorize the menus and important screens without too much trouble. A more visually-driven interface would make the setup process a lot easier for less technical users.
We appreciated the inclusion of tutorials and videos that were very thorough in helping a new user through the setup process. Take a couple of minutes and watch these before diving in, unless you're very familiar with VoIP configuration. One amendment that RingCentral could include to make user experience better would be the option to skip the wizards during configuration and setup. While this feature is fabulous for most people and tasks, it can get somewhat tedious when it comes to standard or straightforward actions that need frequent repetition such as adding new users to the system or setting up extensions.
Mobile App
Mobile App
RingCentral excels in their mobile services. Not only is the system usable on the go with mobile integration, but RingCentral also offers a comprehensive suite of mobile features to make doing business even easier. Unlimited SMS capability allows collaboration with teams including SMS messaging, so employees don't need to use personal mobile devices to send texts.
And, since the entire VoIP system is cloud-based, you can use it from the palm of your hand with the RingCentral app for iOS and Android. Make and receive calls, send and receive faxes and texts, and even set up and join conference calls. Management can even access phone configurations, system settings, notifications, and voicemail from within the app.
RingCentral Business Awards
RingCentral Business Awards
RingCentral has won several awards for its services, including for customer support and its selection of products. The Denver Post recognized it as one of the top 141 workplaces to work in the US, and it was included in the Forbes most trustworthy companies award list, which was limited to just 100 companies.
The company was also named the winner of the Gold Stevie Award in the mobile site/app and messaging category, and was Frost and Sullivan's 2017 UCaaS company of the year award.
RingCentral Business Awards
RingCentral Business Awards
Just in 2020 alone, RingCentral stacked up the awards.
Business information provider IHS Markit ranked RingCentral #1 in its 2020 North American Unified Communications as a Service Scorecard beating out rivals like 8×8, Comcast, and more. In 2017, RingCentral tied with 8×8 for the top spot.
TMCnet named RingCentral as a winner of the 2020 Unified Communications PRoduct of the Year Award for the RingCentral Glip.
Technology-focused research and advisory firm Aragon Research named a leading company in digital workplace service for having "comprehensive strategies that align with industry direction and market demand."
That's just for 2020, since 2005 the company has won a long list of industry-wide awards, starting with inclusion on the 2005 list of winners of the Internet Telephony Magazine product of the year award.
The company has been repeatedly been recognized by Forbes as one of America's most trustworthy companies, and as a top company by Major business consulting firm Frost & Sullivan.
Conclusion
Conclusion
RingCentral offers a cloud-based VoIP option that is packed with features ideal for the growing business. From call handling to video conferencing, you'll find everything you need in this scalable VoIP solution.