In a Nutshell
In a Nutshell
PureVPN is a VPN service that has a lot going for it. With solid security features like built-in firewall and port forwarding, PureVPN keeps your identity safe. It also accepts cryptocurrencies like BitCoin and offers virus protection and respectable speed test results. PureVPN offers 5 simultaneous device connections, so you can stay protected from any device you own. Is this the VPN service for you? Let's dig a little deeper to find out.
Positive
Accepts alternative payment options for better privacy
Port forwarding
P2P virus protection
Negatives
A little harder to work with than other clients
Not all servers unblock Netflix
PureVPN at a Glance
PureVPN at a Glance
Allowed concurrent connections:
Supported streaming services:
Supported devices & web extensions:
PureVPN was established back in 2007, by a Hong Kong-based company—GZ Systems Limited. It's noteworthy that Hong Kong is a country that actively fights for online privacy and doesn't have any obligatory data retention laws. This means that PureVPN can keep absolute zero logs.
Furthermore, PureVPN has a great privacy policy that is actually understandable (kudos to this service for that). It doesn't log any of your activity, DNS requests, or IP address. It does record connection stamps and total bandwidth usage, but that doesn't reveal anything about your identity, so it's really irrelevant.
In terms of security, PureVPN offers solid protection. It supports IKEv2, L2TP, PPTP, OpenVPN, and SSTP. All of these provide 256-bit encryption, offers port forwarding, DDoS Protection, and uses dedicated IP VPN.
Features
Features
PureVPN has excellent features to keep you safe and surfing fast like 5 device connections, kill switch, and DNS leak protection. Some of the features we liked were:
Split tunneling is a convenient feature that allows you to decide which activity gets run through a VPN and which doesn't. This way if you want max speeds without anything holding you back and don't care about security, you can run these actions without the VPN, while keeping PureVPN on for all the other activities going on around you.
Since PureVPN wrote its own code, it gets to decide which apps are available to you, and PureVPN has made it a point to be as inclusive as possible. Its software supports a huge range of devices including the typical Windows, Mac, iOS, and Android devices, but also including some far more esoteric platforms like the ones listed below. This means you can connect a huge range of smart devices to your PureVPN account. Everything from Roku to Amazon Fire, Chromecast, and routers are covered. It's an impressive feat that scores this service big points.
Five simultaneous logins allow you to connect just about every device you own at the same time to a single PureVPN account. This makes across the board protection more affordable and easier to manage.
Another fabulous feature from PureVPN is the speed test tool. This feature allows users to find the best servers possible given their current location and requirements. PureVPN has a whole list of servers that are ideal for various situations, so you can get the best service possible. This is really a big deal for most users because it'll show you how to get the fastest streaming, the most secure downloading, the best privacy, and the most security all around. Anyone using a Windows, Mac, Android, or iOS app can take advantage of the speed test tool.
A 99.99% uptime track record makes PureVPN a solid service you can depend on. It also has unlimited server switching, unlimited data transfer, and unlimited bandwidth, so you can surf, stream, or share on the web with total protection and without getting throttled.
The Speed Test
The Speed Test
You may have heard that having a VPN will slow down your computer. While it can cause some slowdowns, we ran it through some tests to get an idea of just how much.
Computer speed without a VPN installed: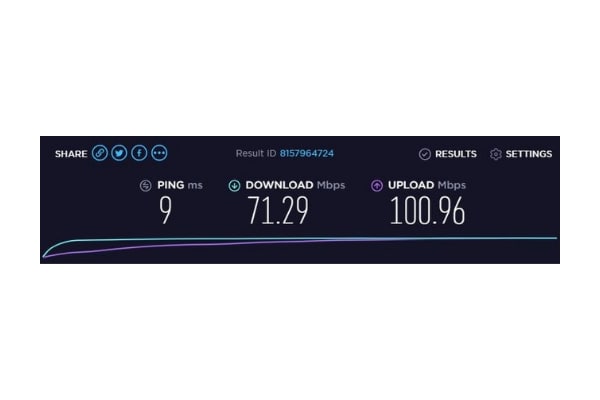 When we set the VPN to a US server, the tests ranged from around 30-35 Mbps, depending on which server we chose. Typically ones that were closer to our location performed slightly better, and with Pure you can always search for the server that's performing best at that particular time.
Bear in mind that PureVPN is one of the best performing mid-range VPNs, and is currently offering 2000+ servers in over 140 countries worldwide. The Hong Kong-based VPN also has specialized servers, including streaming-optimized servers, and P2P-enabled servers as well.
Pricing and Deals
Pricing and Deals
PureVPN has comparable prices for the industry. They're not the cheapest, but they're certainly more affordable than a lot of other options out there. Here are the 3 plans available:
| | 1 Month | 3 Months | 1 Year |
| --- | --- | --- | --- |
| Price per month | $10.95 | $8.00 | $3.33 |
Torrents
Torrents
PureVPN supports torrenting. Plus, with the speed test tool we mentioned earlier, PureVPN even shows you exactly which servers will give you the most secure channels for safe torrenting. It also has in-depth tutorials to help guide you through the process if you're not clear on the details.
PureVPN unblocks a ton of geo-restricted sites including US Netflix. What's more, the software has a Smart Purpose Selection, so you can automatically be connected to a server that is ideal for streaming.
Client Setup
Client Setup
One of the best parts of using PureVPN is getting access to tons of device connections. This service has a huge range of possibilities, including:
Routers
Android TV
Amazon Fire Stick
Microsoft Surface
Kodi
Roku
Boxee box
Now TV Box
Raspberry Pi
Chromecast
PlayStation
Xbox
Linux
Windows
Mac
DD-WRT Applet
That's a pretty extensive list. What's also great is that the client setup is discussed in detail for each type of device, so you can DIY connect in minutes. If you'd rather get some help on the matter, PureVPN provides step-by-step tech support to walk you through the entire process (or it'll even use TeamViewer to take over and do the entire thing for you. Nice!).
PureVPN has mobile apps for iOS and Android as well as the desktop clients we mentioned above.
How Does PureVPN Compare?
How Does PureVPN Compare?
| | 1 Month | 3 Months | 1 Year |
| --- | --- | --- | --- |
| Price per month | $10.95 | $8.00 | $3.33 |
Customer Support
Customer Support
PureVPN offers 24/7 live tech support. This is an incredible help for anyone who's experiencing technical difficulties and needs help right away. And since most of us don't like to wait (especially if we're in the middle of a show), 24/7/365 live chat support is good for us all.
Ease of Use
Ease of Use
PureVPN offers a wide array of clients that are easy to use, even though the settings interface can get tricky if you're not an advanced user. This is probably the biggest downside to an otherwise excellent VPN product. PureVPN is a little complicated to get going. For starters, upon launching the software, PureVPN will ask you what type of activity you're going to be using the VPN for (internet freedom, streaming, security, file sharing, etc.). Based on your answer, PureVPN will choose the settings and the servers that best fit your needs.
While customization like this is actually great for usability and efficiency, some users will have a hard time with it because it SEEMS more complicated. In truth, it's taking away the complications of multiple features and settings you don't need.
If you do want to choose, there are several options available to you. Plus, PureVPN shows you the speed and security level for each protocol, a convenient bonus.
Q: How many IP addresses does PureVPN have?
A: Currently, PureVPN has over 300,000 IP addresses!
Q: What is a dedicated IP and why is it good?
A: A dedicated IP is an IP address that only you can use, and there are a few reasons you'd prefer this type of service. For one thing, dedicated IP addresses won't get blacklisted, so you won't get blocked at any point by geo-restrictions. These addresses also spell out faster email, faster verification, and easier network access.
Bottom Line
Bottom Line
PureVPN has a tremendous network of servers spread across tons of locations. It's also got more than 2000 servers that all allow torrenting and P2P sharing. It's got some solid security features like firewall and dedicated IPs. Acceptance of Bitcoin and other cryptocurrencies makes PureVPN the most secure way to pay also.