In a Nutshell
In a Nutshell
Psychic Encounters offers psychic readings by phone or video call for a flat, fixed rate. It focuses on ensuring that you get the best reading possible, which is why there are no hidden charges, peak rates, or complicated signup requirements. Whether you want to learn more about your love life, career, health issues, or your dreams—you can connect with an experienced and caring advisor at Psychic Encounters.
Positive
Pay a flat, fixed rate no matter when you call
No hidden charges
Video and phone readings available
Negatives
No information about the psychic screening process
No way to filter psychics or search for particular categories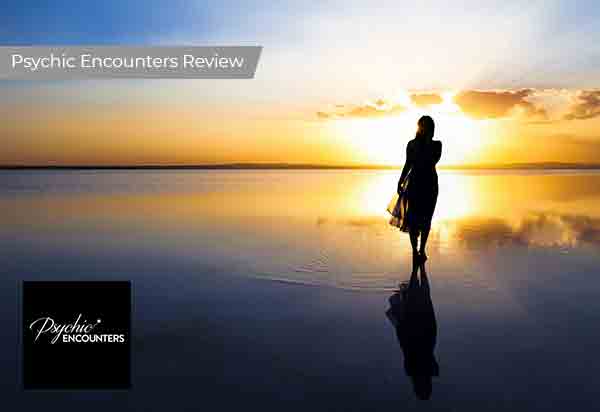 Is Psychic Encounters Trustworthy?
Is Psychic Encounters Trustworthy?
When searching for an online psychic, one of the main concerns is trustworthiness. There's no denying the existence of bad actors and frauds, who cast a dubious shadow over the field and its more legit practitioners. So how do you separate the 2? How can you tell a legit psychic from somebody just out for your money?
The short answer is, it's difficult, but not impossible. Psychic readings are by nature mysterious, personal, and unquantifiable. However—there are some fairly reliable criteria that, when applied to a psychic or psychic website, can either weed out questionable practices or spotlight the signs of a transparent, honest business. Here's how Psychic Encounters looks under scrutiny:
Screening process?
Disappointingly, Psychic Encounters doesn't share any details about its psychic screening process on its website. In fact, it's not clear what psychics need to do to join Psychic Encounters. The website tells you that all of the psychics listed are equally skilled, but there's no information to back up the claim.
Psychic bios?
User reviews?
Community resources?
100% money-back guarantee?
Psychic Encounters' site is sparser than most, though that's by design—the about us page states that instead of endless clutter and gadgets they wanted to their psychics to be the centerpiece. Though we're not crazy about the lack of screening process, nothing about the site gives off the impression that it can't be trusted. The psychics provide detailed bios, user reviews are posted for anyone to see, and the FB page shows engagement with the larger psychic community.
A final note about trustworthiness
Given the nature of psychic readings, it's difficult, but not impossible to determine with absolute certainty the legitimacy of a practitioner. Furthermore, there are factors that can influence the success or failure of a reading that may have nothing to do with the legitimacy of the psychic. For that reason, make sure you choose a psychic that specializes in your field of inquiry, and communicate your questions and goals clearly. Nothing's black and white when it comes to psychic readings—hey, that's part of the fun, right?—but judging online psychics by certain criteria can drastically increase your chances of finding one who's in it for the right reasons.
Pricing & Special Offers
Pricing & Special Offers
Psychic Encounters offers simple, transparent pricing without any hidden costs. There are no special packages, discount offers, or complicated price offers. All calls automatically disconnect after 30 minutes, so you won't be kept chatting on the line or worry about staying on for too long. You can always call back again if you feel you have more to say and hear.
It's worth noting that the company will pre-authorize your card for the cost of a 30-minute call, but you will only actually pay for the exact number of minutes you use. The pre-authorization charge will disappear from your credit card statement within 3-5 days.
| Phone call per minute | Video call per minute |
| --- | --- |
| $0.99 | $2.99 |
Types of Psychics & Services
Types of Psychics & Services
Psychic Encounter prides itself on removing the fuss and complications that dog the steps of many psychic sites. There's no need to choose a specific category or type of reading—all
of Psychic Encounters' psychics are listed together so that you can connect with whoever draws you the most.
As you browse the available psychics, you can see their areas of specialty. These include Love, Life Path, Money, and Departed Loved Ones. Some readers are psychics; others connect with your spirit guide or loved ones, some are empaths, or use other methods for bringing you to guidance and clarity. Each psychic explains his or her style on their personal bio.
Frustratingly, there's no way to search for a reader based on their specialization or reading style—you'll just have to browse through the list until you find the topic or reading method that you're after.
What's Unique About Psychic Encounters?
What's Unique About Psychic Encounters?
Psychic Encounters stands out for the transparency of its pricing structure. If you've ever struggled to understand a complicated set of per-minute costs, base costs, and subscription discounts, you'll really appreciate a psychic reading service that only has one fixed rate for every psychic. There's no need to worry about paying peak charges or being hit with an unexpected extra fee because, with Psychic Encounters, the fee advertised is the amount you pay.
What Users Are Saying About Psychic Encounters
What Users Are Saying About Psychic Encounters
"Had a fantastic reading with Veronica. She is awesome! I can't wait to see what happens. Thank you for giving me peace of mind!" – Candace C
"I was having a meltdown and she calmed me down and assured me that everything will be ok." – Debby G
"She was very quick and spot on. You won't be disappointed." – Judi T
"Truly insightful and gifted! I love talking with her, highly recommended!!" – Debra N
Customer Support
Customer Support
Unlike some psychic reading sites, there's no money-back or satisfaction guarantee with Psychic Encounters, but then again, it does have an unusually reasonable and trustworthy pricing structure.
If you need to contact Psychic Encounters, your only option is an online web form which opens up an email ticket. There's no telephone or live chat customer support, but that's pretty common for psychic reading sites. A customer service representative will respond to your request within 24 hours.
Bottom Line
Bottom Line
Psychic Encounters is ideal for anyone who wants their psychic readings to be straightforward and easily accessible. There are no complicated subscription requirements and no need to create an account—you just enter your phone number and connect with your chosen reader. With Psychic Encounters, you can access guidance and clarity about any uncertainties in your life without paying a premium. A single fixed rate means that you always know the price you'll pay for insight and peace of mind.
Psychic Encounters Review