In a Nutshell
In a Nutshell
OurTime is a senior dating app for singles over 50 looking to meet someone new. You can also use this app if you're a young person seeking a cougar or DILF (did I say that?). No matter your age or personal preferences, there are more than 1.5 million older singles on OurTime who are looking for love, a casual relationship, or something in between.
Positive
Browse profiles according to your interests and preferences
Receive daily matches based on your preferences
Upload audio and video files to your profile
Negatives
No personality test
Automatic account renewal
OurTime Video Review
OurTime Video Review
OurTime at a Glance
OurTime at a Glance
Signup Process
Signup Process
The signup process for OurTime is simple, especially for those who may not be too internet savvy. The user dashboard is easy to use and convenient for people of all levels of tech experience, so your son or daughter doesn't have to teach you how to use it.
You start by selecting your gender and the gender you're looking to meet, before clicking "search now." You'll be asked to specify your location, select a username and password, your birthday, and your email address.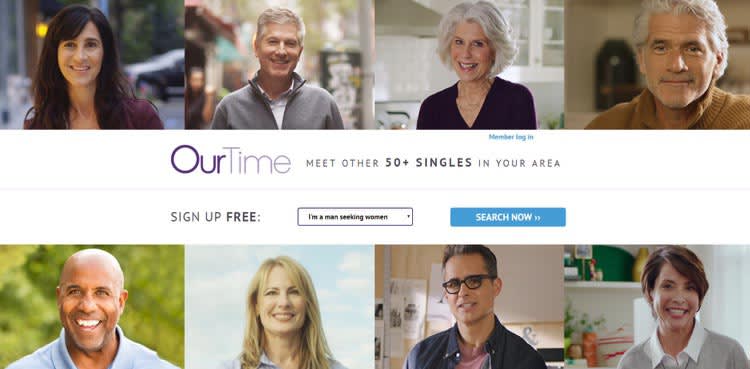 Next, you'll start building your profile by adding a photo and writing a little something about yourself. Both of these steps can be skipped and returned to later.
The last step before browsing singles is answering 3 questions about yourself:
Mark people you could be interested in from a suggested list to help the system get a sense of what you like. Once this is complete, you'll have the chance to purchase a subscription plan. You can scroll through people's photos and click on ones you like without having to sign up for a membership. You can also see your matches with the free plan, but without a paid membership you won't be able to communicate with anyone.
Matchmaking & Search Functions
Matchmaking & Search Functions
You can search for potential matches based on a variety of criteria including age, location, zip code, religion, marital status, zodiac sign, height, ethnicity, gender, and even blood type. This helps you find people your more likely to click with, saving you some time and effort.
The search filter by Zodiac Sign had to be my favorite feature on the app. I'm newly into studying astrology, so finding someone who's compatible with my Scorpio sun sign, Virgo moon sign, and Gemini rising sign is essential for me (kidding not kidding). I've found, however, that I'm extremely compatible with Gemini men so I punched in that filter option and found several older men who fall into that category.
OurTime also has some of the fun, swipe features made famous by Tinder. The site's "who do you like" feature lets you flip through photos of people and save the photos you like to review later.
In addition, OurTime will notify you when other users visit your profile and let you know who they are. The site keeps track of things to help you, including who has visited your profile, flirted with you, and which profiles you have already seen.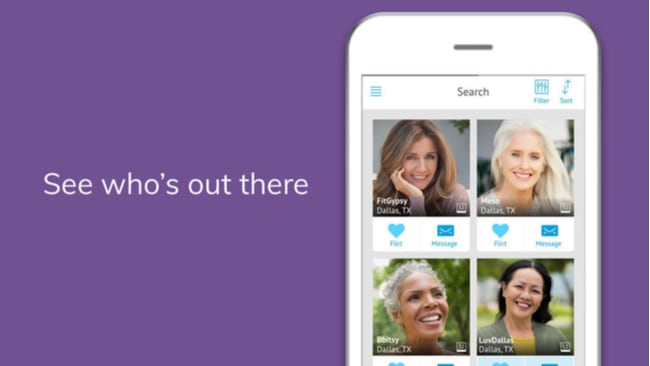 Features & Communication Tools
Features & Communication Tools
To use any of the communication tools on OurTime, you'll need to sign up for a paid membership. Once you've selected a membership plan, you can reach out and communicate with people in a number of ways.
On the lower right hand side of the screen there's a live chat option where you'll see a list of people you can talk to. When you hover over someone with the cursor, you'll see a list of their personal traits.
The "I'm interested" feature helps you reach out to people and show interest. OurTime presents you with photos of members and you can mark if you're interested or not. If you mark "yes," the person receives a "flirt." You can also filter the results so that you're only sent pictures of people who live in a certain area or share certain interests with you.
OurTime also gives you the option of having a little fun and flirting with users by sending digital "gifts." You'll need to buy tokens to purchase gifts and flirts.
OurTime Love Stories
OurTime Love Stories
"OurTime brought my ultimate happiness. It gave me the opportunity to meet my soulmate." – Melissa
"All we know is we're happiest when we're together and feel truly blessed we found each other." – Donna
"It's a great site and I met the most wonderful guy. We are going on 9 months." – Liz
Safety & Security
Safety & Security
OurTime provides members with extensive tips on dating safety. These include making sure that your first date is in a public place and that you let a friend or loved on know where you're going on your date. In addition, OurTime advises to never give out sensitive, personal information to people you meet online.
The site's privacy policy says that it collects and stores any and all personal information you enter on the website or mobile app, such as name, email, and telephone number, as well as your financial information like payment methods. It can also collect information from your social media profile if you access the site through your Facebook account. The company says it does not provide any information to third party advertisers who post on its site, but that it can retain your data even if you close your account.
OurTime's 6-month plan includes:
Messaging and instant messaging
See members interest in you
Full mobile access
Message read notification
Profile highlight
Message highlight
OurTime's 1-month plan includes:
Messaging and instant messaging
See members interested in you
Full mobile access
| Duration | Price per week | Total price |
| --- | --- | --- |
| 6 Months | $4.49 | $107.76 |
| 1 Month | $7.49 | $29.96 |
Help & Support
Help & Support
OurTime operates an extensive FAQ section that should be enough to answer most questions. If not, you can use the site's online form, and you should get an answer within 48 hours. There is also a toll free number that is answered from 8am-5pm central time Monday-Friday.
Find Love on OurTime
Find Love on OurTime
OurTime helps you put together a profile that highlights who you are and what you're looking for in a partner, so you can connect with people with whom you're truly compatible. With a simple, straightforward interface, the site is designed to meet the needs of people who may not have the most experience with online dating. Sign up to get back in the game and see what all the fuss is about with online dating.