In a Nutshell
In a Nutshell
Neighbor is a storage unit company that lets you find free space in your area to house your items. This platform represents a new way to think about storage. Moving away from large warehouses and big lots with numerous garage units, Neighbor is more like an Airbnb for your stuff. Neighbor has a wide selection of sheds, garages, spare rooms, basements, and even traditional storage units in your area.
Positive
Cheaper than traditional storage
Expansive insurance
Find a space that works for you
Negatives
More variety in quality and space
Less secure than normal storage units
Sometimes hard to find local space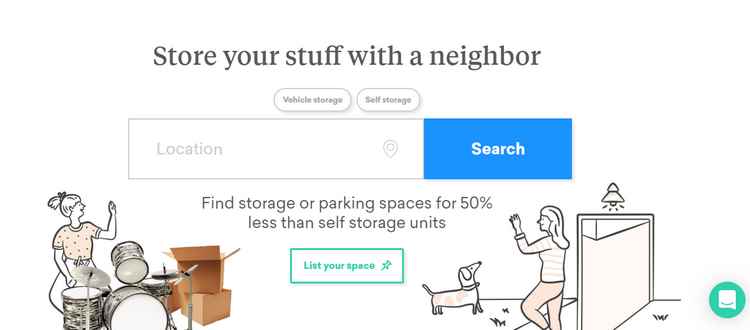 Neighbor at a Glance
Neighbor at a Glance
What Services Does Neighbor Cover
What Services Does Neighbor Cover
Neighbor offers self-service storage with local people in your area. If you need access to your items or car, you can search with these parameters specifically. Although you'll have to manage the moving and packing yourself, there is often a participating "Neighbor" very close by, making moving in and out of your storage unit simple.
Neighbor Facility Features
Neighbor Facility Features
Due to the freedom of the platform, Neighbor features range from very basic to more elaborate. For instance, you may find quite a few empty lots but you may also find secure air-conditioned basements.
When searching for storage space on Neighbor, below a facility's profile, you'll see a list of features like:
Humidity controlled
Locked area
Smoke-free
Climate controlled
Smoke detectors
Security camera
Humidity controlled
Locked area
Smoke-free
Climate controlled
Smoke detectors
Security camera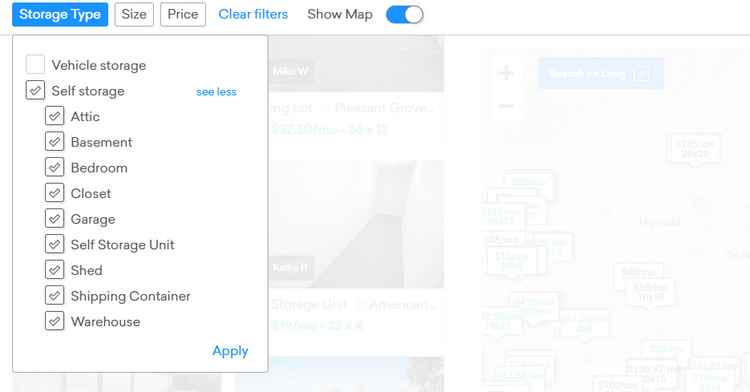 Neighbor Security
Neighbor Security
Neighbor doesn't require any specific security but does require that hosts give an honest representation of storage spaces. That means if the Neighbour profile says it is a locked area, the area will be locked. You can look for places with additional video surveillance and pest control so you feel confident about where you're putting your things.
Neighbor Storage Unit Details
Neighbor Storage Unit Details
On the Neighbor website, you can search for storage spaces using a variety of different parameters including Small, Medium and Large sizes which range from 10×10 ft. up to 20×10 ft.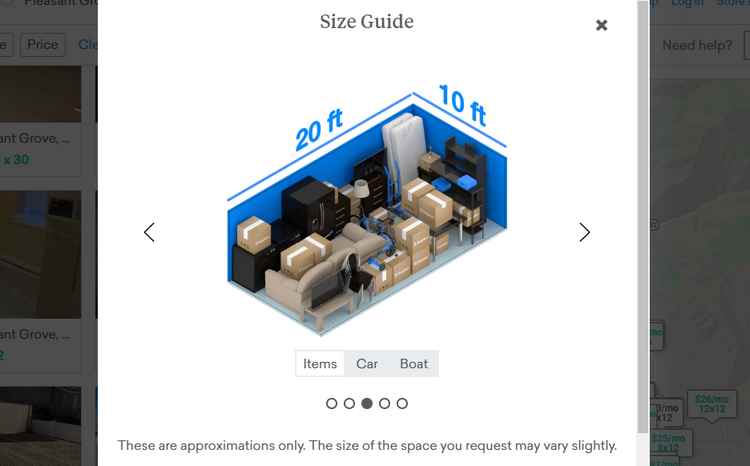 You can also search by storage type or exclude certain types of storage by selecting options like sheds, basements, attics, empty lots, garages, closets, shipping containers, or storage units.
How Much Does Neighbor Cost?
How Much Does Neighbor Cost?
Because Neighbor's pricing reflects your local market, prices vary significantly. In smaller suburban areas you can find 5×5 ft. storage closets for as low as $8 per month, but the same unit would cost more like $100 per month in Beverly Hills or areas where real estate costs tend to be higher. Because it is very simple to see what is available in your area, we recommend putting in your zip code and preferences just to see what's out there.
Neighbor Rental and Leasing Options
Neighbor Rental and Leasing Options
All of Neighbor's rental options are month-to-month, though there is currently a promotion for 50% off of your first month if booking for more than one month. Prices are locked in and can't be raised. For people looking for very long-term storage, it is good to mention that in your description when contacting potential hosts on Neighbor.
Neighbor Customer Service
Neighbor Customer Service
Neighbor is very straightforward to use but if you have basic questions, the Neighbor Help Center is a great place to start. Here you'll find a series of articles about how to become a host and how to search and find the right kind of storage.
If your problem is a bit more complicated you can message a representative through Neighbor's chat service and you will receive a response within a couple of minutes.
You can also give Neighbor a call. Simply enter your zip code into the Neighbor search bar, and on the upper right-hand side of the storage results, you'll find the local helpline phone number.
What Are People Saying About Neighbor
What Are People Saying About Neighbor
"We were so pleased with our experience with Neighbor. We needed a short term storage place for our RV and through neighbor we found the perfect spot at a very reasonable rate. HIGHLY recommended" -Trevor and Lella
"My husband and I got a new bed and needed a place to store the old bed for a month. We were able to find a place on Neighbor and drop it off an hour later. The website was very easy to navigate. We just moved to a larger home and we've rented out our extra garage space. From the renter side, and the host side neighbor.com has been a great resource for our family." -Chloe
"I had to go home for the summer to work, and I would be coming back to school without a car, so I needed a place for the majority of my stuff! Neighbor was very helpful and quick to answer any of my questions! They made sure everything was correct and that my invoice came through! The host of the house I was storing in was very nice and even helped me with my things! I am very pleased with how easy this process has been! Thank you Neighbor!!!" -Shelby
Bottom Line
Bottom Line
Neighbor is a good alternative to normal storage and is a great way to save a lot of money if you need somewhere to put your stuff. The app and website are incredibly easy to use and it's popular enough in most areas that you are bound to find something that will work for you. For longer-term and highly valuable items some might still feel more comfortable with typical storage units. Luckily, regular storage units are now also advertised through Neighbor. Overall, the platform is a handy tool for all kinds of storage needs and is a good way to make money if you have some extra space.