In a Nutshell
In a Nutshell
Liberty Home Guard is a responsible home warranty provider that focuses on helping you when something goes wrong. The choice of 2 plans, one for your appliances and one for your home systems, plus a third comprehensive package of both plans, means that landlords, tenants, and homeowners can all find a suitable plan.
Positive
You don't need a home inspection before buying coverage
Option to use a private contractor
60-day guarantee on all work
Negatives
Website does not show any prices or standard fees
Unclear if company covers damage due to rust or corrosion
Not available in 9 states (CA, HI, IL, IN, IA, OR, WA, WI, or WY)
Best For
Best For
Landlords who want the reassurance of knowing their domestic systems can be fixed easily and without great expense, but don't want to also cover appliances.
Homebuyers who want to purchase a home warranty policy before they complete the purchase of their new home so that it's ready to start as soon as they get the keys.
Liberty Home Guard Coverage
Liberty Home Guard Coverage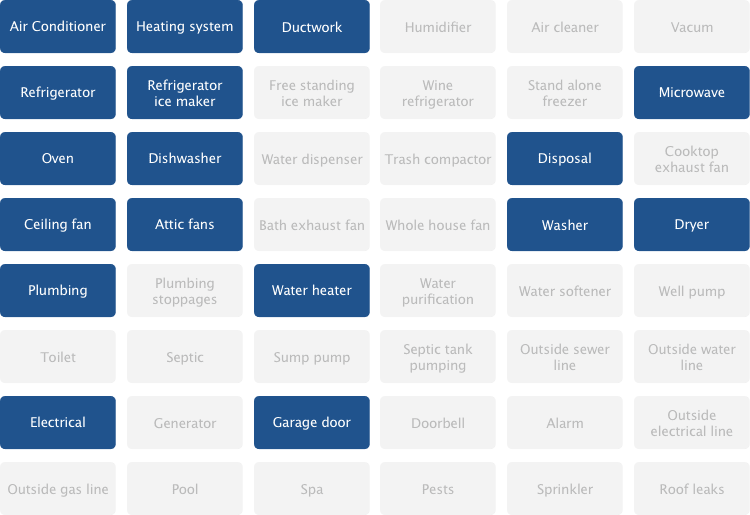 Liberty Home Guard offers coverage of your appliances, your home systems, or both if you choose the Total Home Guard plan. Its coverage includes a quick visit from an expert technician and the cost of labor and parts to repair your appliances or home systems if they stop working due to standard routine use. The call center is open 24/7, and Liberty Home Guard promises to respond within 48 hours.
Every time a contractor comes to fix your item, you'll need to pay a service fee, or deductible. Liberty Home Guard warns that if its contractors can't fix the broken item, parts are no longer available, or the cost is more than the agreed-upon coverage limits, the company will reimburse you for the cost of the item up to the amounts listed in your contract. If your appliances or systems are broken beyond repair, Liberty Home Guard will pay for you to replace the broken item with the same or similar model.
Your coverage with Liberty Home Guard won't include commercial-grade appliances or systems. There's also a cap on the expense that Liberty Home Guard will invest to repair or replace your appliances. That cap varies depending on your agreement, but the sample contract shows a cap of $1,500 for most covered items. The limit is lower for professional appliances like professional brand refrigerators or professional brand ovens. LHG guarantees the work that its contractors carry out for 60 days, so if you aren't happy with the work, you can have someone come to fix it again free of charge.
| | Appliance Guard | Systems Guard | Total Home Guard |
| --- | --- | --- | --- |
| Clothes Washer / Dryer | ✔ | X | ✔ |
| Refrigerator w/Ice Maker and Dispenser | ✔ | X | ✔ |
| Built-in Microwave Ovens | ✔ | X | ✔ |
| Dishwashers | ✔ | X | ✔ |
| Garbage Disposals | ✔ | X | ✔ |
| Ranges/Ovens/Cooktops | ✔ | X | ✔ |
| Ceiling and Exhaust Fans | ✔ | X | ✔ |
| Garage Door Openers | ✔ | X | ✔ |
| Air Conditioning | X | ✔ | ✔ |
| Heating | X | ✔ | ✔ |
| Ductwork | X | ✔ | ✔ |
| Plumbing | X | ✔ | ✔ |
| Electrical | X | ✔ | ✔ |
| Water Heaters | X | ✔ | ✔ |
Packages, Plans, and Prices
Packages, Plans, and Prices
Liberty Home Guard offers 3 plan choices—Appliance Guard, Systems Guard, and Total Home Guard.
Appliance Guard is a plan that covers almost all of your kitchen and daily appliances, including your clothes washer and dryer, fans, garage door opener, and refrigerator.
Systems Guard protects the standard home systems that you rely on every day, such as your plumbing, electrical, heating and air conditioning systems, ductwork, and water heaters.
Finally, Total Home Guard combines both plans into one single comprehensive plan. It includes all of your standard home appliances plus your regular home systems.
Liberty Home Guard also permits customers to add on extra coverage for additional items, such as a septic system, a pool and spa, a stand alone freezer, or a second refrigerator so that you can adapt your plan to coincide with your needs. You can pay for these add-ons no matter which of the plans you buy.
There are no clear prices on the Liberty Home Guard website, so you'll have to fill in the online web form and wait for an agent to respond, or call the hotline to get a customized quote. Appliance Guard and Systems Guard each begin at under $1 per day, and the comprehensive Total Home Guard plan begins at under $1.50 per day. The sample contract shown on the website charges $500 for Total Home Guard coverage with a $60 service fee. You can pick a monthly or yearly contract, or even pay for a multi-year plan, and Liberty Home Guard offers 1 month free when you sign up for a year's plan.
Terms and Conditions
Terms and Conditions
You won't find the detailed terms and conditions laid out on Liberty Home Guard's website, but there is a sample contract which gives you a fairly clear idea of what to expect. You'll be expected to pay a service fee, which is standard for home warranty services. The contract also lays out the dollar amounts of coverage for each item or system, and exclusions, which LHG won't cover, such as misuse, acts of God, terrorism, earthquakes, and deliberate damage. You'll find similar exclusions from just about every home warranty provider. It is not clear is whether LHG will cover items that stop working due to a lack of routine maintenance.
Contractors
Contractors
Liberty Home Guard uses a screened network of contractors across the country, with every contractor interviewed and vetted before he/she joins the LHG contractor network. It promises a proactive, caring approach with contractors who will think big about what you need, but there isn't much hard information. Unlike many home warranty providers, LHG does allow you to use a contractor outside its network and take a cash payout from LHG instead of service.
Customer Service
Customer Service
Liberty Home Guard boasts a dedicated call line (833) 544-8273 that's open 24/7 to take your calls if something goes wrong. It promises to respond to all requests within 48 hours. You can also get in touch by email at SERVICE@LIBERTYHOMEGUARD.COM. Liberty Home Guard enables customers to schedule service online and to check up on the progress of their contractor through an online secure portal.
To Sum It Up
To Sum It Up
Liberty Home Guard has a somewhat confusing website. It would also be convenient to know the average cost of a month and a year of coverage under each plan without having to request a customized quote. But LHG does provide good coverage for all of your home items, both appliances and systems. Judging by the sample contract, prices and limits are within the standard range for home warranty providers.
We particularly like that you can choose between appliance coverage or system coverage, making it a useful policy for both landlords who are renting unfurnished properties and tenants anf only want to cover their own appliances in a rental property. The range of add-ons makes it a very comprehensive home warranty service since you can include these extras alongside every plan, even if it's not the comprehensive Total Home Guard plan.
Liberty Home Guard seems to work hard to do all it can to help its customers in an emergency, with services like a 24/7 toll-free line, guaranteed 48 hours response time, and a commitment to proactive thinking like helping you arrange a temporary freezer for your frozen goods if your freezer breaks down. Overall, we see Liberty Home Guard as a solid home warranty option.
About Liberty Home Guard
About Liberty Home Guard
Liberty Home Guard was founded to provide excellent coverage for homeowners and tenants who want a reliable home warranty service. It is committed to providing honest work and always being there for its customers.
SERVICE@LIBERTYHOMEGUARD.COM
(833) 544-8273
Monday to Sunday 24/7
Liberty Home Guard Review