In a Nutshell
In a Nutshell
HealthSapiens is an online health care provider that connects patients to medical professionals that specialize in areas of their specific ailments. Doctors and therapists are available 24/7, so you can reach out whenever you need medical guidance. What's more, HealthSapiens charges a flat-rate monthly fee and no co-pay or per-visit fees. So, you can visit the doctor as many times as you need without paying more.
Positive
7-Day risk-free trial available
Extremely affordable family plan
No co-pay, no per-visit charges
Negatives
Can't select the therapist you want
Need a good internet connection for sessions
HealthSapiens at a Glance
HealthSapiens at a Glance
How Can I Get Treatment?:

How Does HealthSapiens Work?
How Does HealthSapiens Work?
Voted "Best Subscription Service for Online Doctors" by Consumers Advocate, HealthSapiens is one of the easiest and most affordable online healthcare providers we've come across to date. For a fraction of the price of any other medical services, HealthSapiens gives you unlimited access to medical professionals during the term of your subscription. And everything can be done online. HealthSapiens has 4 steps to get you the treatment you need. Here's how it works:
1. Sign Up For a 7-Day Risk-Free Trial
Start by creating a HealthSapiens Medical account and profile. Tell HealthSapiens about yourself, including your name, contact details, and date of birth. Select a plan and save your preferred debit or credit card so your subscription isn't interrupted after your trial ends. Click complete payment to finish the transaction. Once you have done this, you can then connect to HealthSapiens either over the phone or online via video chat and messaging — whatever you're more comfortable with. Tell them why you're requesting a doctor's visit, including any relevant details such as symptoms or concerns you may have.
When you reach out to HealthSapiens, you'll be connected to the triage team. Here, your electronic health record will be updated and reviewed, including the most current symptoms and reason(s) for your current visit.
Next, you'll be connected directly to a board-certified U.S. doctor in as little as 15 minutes (and often in 5 minutes or less.) This is your actual doctor's visit, where you will discuss with the doctor any issues you're having, get the guidance you need, and any other details you need to consult on. The doctor will give you a diagnosis, answer your questions, explain your condition, and can even write a prescription and send it to a pharmacy of your choice. Your doctor can also recommend any other steps or methods of treatment that pertain to your current issue so you can get relief.
HealthSapiens doctors will continue to administer treatment until your issue is resolved while you are a subscriber. Your Electronic Health Record is updated, reviewed, and securely-stored for efficient access and convenient export. This is another unique aspect of HealthSapiens healthcare — most telehealth services won't include follow-up or continuous care. This is a major benefit.

What Does HealthSapiens Treat?
What Does HealthSapiens Treat?
HealthSapiens treatment covers the spectrum from A to Z. Except for major and immediate medical emergencies, there's almost nothing this telehealth service can't deal with. Here is a list of some of the conditions you can have treated via HealthSapiens:
Allergies
Bronchitis
Cold
Cough
Diarrhea
Ear Ache
Eye Infection
Fever
Flu / Influenza
Headache
Pneumonia
Rash / Skin Infection
Sinus Infection
Small Wound
Stomach Ache
Upper Respiratory Infection
Vomiting
Yeast Infection
As HealthSapiens puts it on the website, basically, unless you are ready to call an ambulance, HealthSapiens can help you out.
How Much Does HealthSapiens Medical Cost?
How Much Does HealthSapiens Medical Cost?
HealthSapiens Medical has an unusual pricing structure. Rather than a per-visit pricing plan like most online healthcare providers charge, HealthSapiens Medical is an affordable flat rate each month. The price includes unlimited doctor visits and 24/7 access to your medical treatment. So, you can make an appointment every day of the month if you want to, and you'll still only pay the single flat fee for that month. However, if you take advantage of their 7-day trial, you can try the Individual Plan risk-free before committing.
HealthSapiens has 2 plans to choose from, a family plan and an individual plan. Here's the pricing breakdown for them both:
| | Family Plan | Individual Plan |
| --- | --- | --- |
| Price per month | $24.95 | $19.95 |
| Trial available | No | Yes – 7 days |
| Coverage for | Up to 7 people | 1 person |
| 24/7 access | Yes | Yes |
| Consultations per month | Unlimited | Unlimited |
| Prescriptions sent to nearest pharmacy | Yes | Yes |
| Per-visit fee | $0 | $0 |
| Available if no current health insurance plan | Yes | Yes |
Does HealthSapiens Take Insurance?
Does HealthSapiens Take Insurance?
The best part of HealthSapiens is that it doesn't require any health insurance to work. Anyone can sign up and get coverage, paying $20-$25 a month for full coverage.
What Do People Say About HealthSapiens?
What Do People Say About HealthSapiens?
"I called HealthSapien and got the most professional and competent consultation including a prescription sent directly to my pharmacy." – Antonia K
"Excellent and valuable service to have especially when the doctor is not available." – Nancy Z
"Quickly scheduled an appointment, connected to a medical professional and got a prescription all from my couch! … Great product for busy people without the downtime to wait for traditional treatment." – Rene H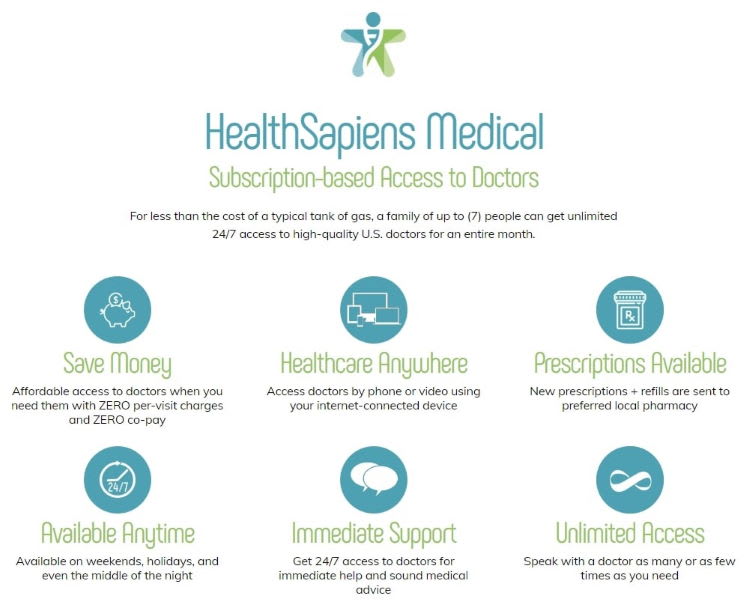 HealthSapiens FAQs
HealthSapiens FAQs
Q: Does HealthSapiens prescribe medicine?
Q: Can HealthSapiens give me a doctor's note?
Q: Do I need a subscription for HealthSapiens?
Q: What hours does HealthSapiens have appointments available?
Bottom Line
Bottom Line
HealthSapiens is one of the most affordable telehealth services we've reviewed yet. For less than $20 a month per individual ($25 a month for a family of 7), you can get full coverage for everyday care and other expert medical guidance. What's more, you get unlimited 24/7 access. So, you can book as many appointments as you want and whenever the need arises. With phone and video chat capabilities, HealthSapiens makes getting the healthcare you need easy, convenient, and affordable for everyone.
HealthSapiens Online Doctors Review