In a Nutshell
In a Nutshell
GoDaddy Online Bookkeeping is a straightforward, intuitive accounting program designed for US-based sole traders and small businesses. It comes with a suite of great features, including streamlined invoice and expense management, a range of integrations, and great mobile apps for on-the-go tracking.
Positive
Very competitively priced
Streamlined integrations with various Ecommerce platforms
Tidy, user-friendly interface
Negatives
Time tracking tools are quite basic
No multi-currency support
GoDaddy at a Glance
GoDaddy at a Glance
GoDaddy Ease of Setup and Use
GoDaddy Ease of Setup and Use
Everything GoDaddy does is targeted at beginners with little tech knowledge or specialist skills, and its Online Bookkeeping platform is no exception. It's very easy to use yet functional, and we were very impressed with the guided setup process.
To get started, we simply signed up for an account and followed the prompts to configure basic settings. Linking a bank account or credit card took no more than a few minutes, and we were able to specify exactly what information we wanted to be imported.
One thing that really stood out was the breadth and quality of the information presented on the GoDaddy Bookkeeping dashboard. Here, you can see a tax estimate for each accounting period, any money you owe, or are owed, and a record of your tracked hours, expenses, sales, and more.
GoDaddy Pricing and Plans
GoDaddy Pricing and Plans
GoDaddy's OnlineBookkeeping software is available with 3 subscription options. Prices range from $4.99 to $14.99 per month, but there isn't any free trial or basic free version.
The cheapest Get Paid plan ($4.99 per month) includes basic tools that let you track invoices and estimates, and accept payments from a mobile device. You will also be able to generate simple reports and track time and mileage.
Upgrading to the Essentials plan ($9.99 per month) adds unlimited report generation, a range of tax worksheets, automatic transaction importing, and automatic sales data importing from third-party websites. And finally, a Premium subscription ($14.99 per month) comes with everything in the Essentials plan, as well as support for recurring invoices.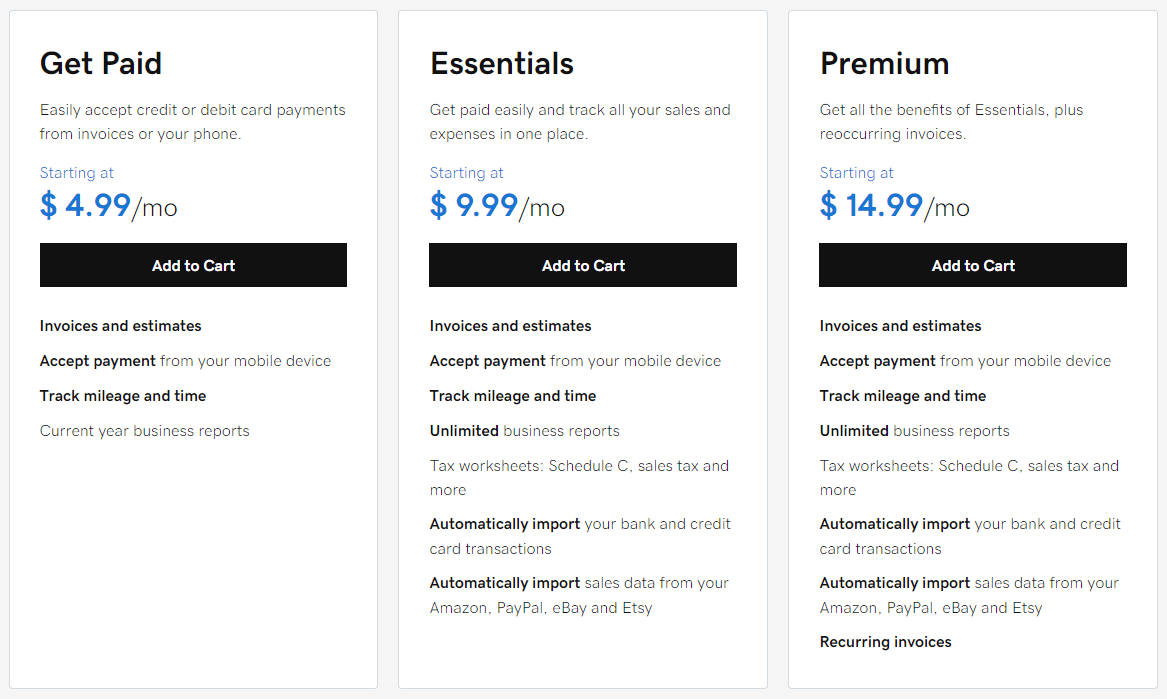 GoDaddy Features
GoDaddy Features
GoDaddy's Online Bookkeeping tools are backed by a range of advanced features that focus on streamlining sole trader and small business accounting. It boasts a very tidy system that requires little to no accounting skills and is designed to help users save a significant amount of time.
General Ledger and Expense Tracking
There are various tools available to help you track expenses in a straightforward, efficient manner. For example, you can create and monitor the status of invoices directly from your GoDaddy dashboard.
The mobile apps allow you to scan and store receipts for later use, and you can also track mileage, time, and other important numbers. And what's more, GoDaddy Online Bookkeeping can be integrated with numerous banks and credit cards so you can automatically import relevant transaction data and other information.
Inventory Management
Unfortunately, GoDaddy Online Bookkeeping lacks any inventory management tools. This won't be an issue for those who use a third-party inventory management platform or who can track stock levels through their Ecommerce or other sales platform, but it will be a major concern for many.
Billing and Invoicing
As expected, GoDaddy Online Bookkeeping allows you to create, send, and manage invoices. You can customize the appearance and content of each invoice, and a copy will be stored within your dashboard for later reference.
GoDaddy Integrations
GoDaddy Integrations
GoDaddy boasts automatic integrations with over 3,800 banks and credit unions from across the United States. It also supports transaction importation from most major credit cards, allowing you to automatically add relevant information to your accounting dashboard.
On top of this, you can also connect your account to numerous Ecommerce platforms, including Amazon, eBay, PayPal, Etsy, and more. If you do this, GoDaddy will track your sales, payment information, and any other relevant data as required.
GoDaddy Mobile Apps
GoDaddy Mobile Apps
GoDaddy Online Bookkeeping comes with both Android and iOS apps. These are quite powerful, allowing you to add information and sync transactions on the go. What's more, both of them come with a range of advanced features, allowing you to create and view invoices, add and edit customer records, and more.
On top of this, both versions of the app are quite attractive and very easy to use, although they are based on a slightly different design. The iOS app comes with a big plus sign that allows you to add transactions, along with a list of menu icons along the bottom of the screen and a settings menu in the top right. On the other hand, the Android app lets you add various details by clicking on the plus sign. The link on the top right leads directly to your settings.
GoDaddy Customer Support
GoDaddy Customer Support
GoDaddy's Online Bookkeeping software is backed by excellent customer support. For starters, there are various local phone numbers available for support across the world. Live chat support is another great option, and the agents we spoke with were both knowledgeable and friendly.
On top of this, there is a brilliant support center containing numerous self-help resources. Here, you will find a range of guides, how-to articles, FAQs, and more. For example, a search for resources related to "online bookkeeping" delivered a huge 346 results.
Bottom Line
Bottom Line
At the end of the day, GoDaddy Online Bookkeeping is a decent small business accounting program, but it does lack a few advanced tools. It's very competitively priced, comes with features designed specifically to save time for small businesses and sole traders, and is backed by excellent customer support.
The lack of inventory management tools, multi-currency support, and any meaningful payroll features will scare some people away. Ultimately, though, GoDaddy Online Bookkeeping certainly isn't the worst accounting software we've used. It does what it needs to and, as long as you're aware of its limitations from day one, you shouldn't have any major problems.