In a Nutshell
In a Nutshell
Freshworks CRM (formerly Freshsales) is a fully featured CRM that makes it easy to track pipeline and manage individual accounts. The CRM supports full custom fields creation and labelling and custom rolls. With 3 tiers, it's suitable for organizations with up to 5,000 contacts to manage sales leads.
Positive
Extensively customizable
AI-powered lead scoring
Marketing and sales features
Negatives
Enterprise tier limited to 5,000 contacts
Free tier doesn't offer reporting
Freshworks CRM Visit Site
Freshworks CRM Visit Site
Freshworks CRM at a Glance
Freshworks CRM at a Glance
Tier
Growth
Pro
Enterprise
Best for
Sales teams with limited manpower and big ambitions
Key use
Sales pipeline tracking and lead scoring
Price
From $29 per user per month (Growth tier)
Free trial
21 days
Overview
Overview
Freshworks CRM is an enterprise-ready CRM that supports up to 5,000 users and leverages the power of artificial intelligence (AI) to help users do more with fewer internal resources. The CRM also supports easy lifecycle stage visualization so that sales resources can easily keep track of deal progress throughout the pipeline. Simply by dragging and dropping, users can move a lead stage from new through to contacted and qualified, for instance.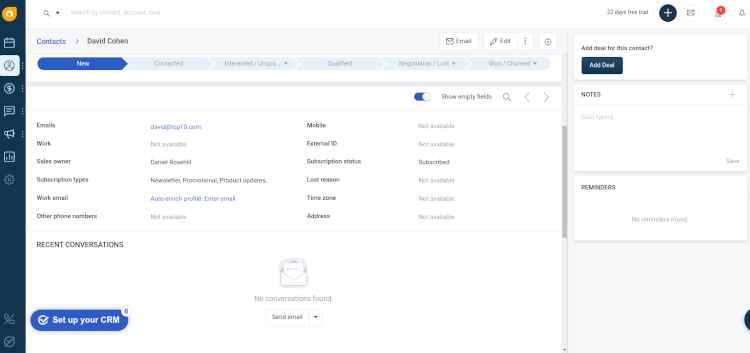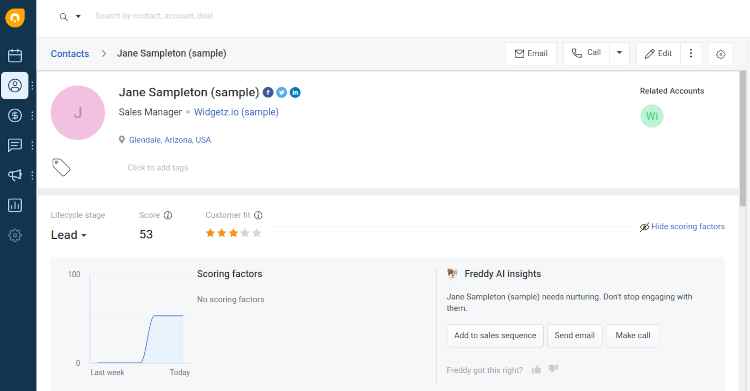 Tools for Sales Teams
Tools for Sales Teams
Freddy AI Lead Scoring
Wouldn't it be nice if your CRM had an extra pair of hands to help you manage your pipeline? How about one with the intelligence to automatically score your leads based on more than 30,000 machine learning models? Dream no more—Freshworks CRM's built in AI engine, Freddy, can do all this and more. Not only does Freddy leverage the power of advanced learning models, it is also constantly learning from the data fed to it in the CRM to more accurately predict the relevance and likelihood of leads to convert into paying customers. Additionally, Freddy can analyze past interactions with leads in order to predict what the next communication should be.

Freddy can also provide insights as to suggested engagement strategies for sales teams. For instance, during our trial of the solution, Freddy prompted us to nurture a lead. The feedback option, provided through a thumbs up/thumbs down survey, would continue to feed data into the AI engine. And so Freddy gets better and better at helping your sales team run their operation.
Enriched Contact View
Freshworks CRM allows users to enrich the default contact view with as much information about the lead as can be pulled from the internet, including social media profiles from Facebook, Twitter, and LinkedIn. This provides a more immersive experience for leads by aggregating all the information about them into one page. Given that the CRM also integrates with Freshdesk, and support information can be synced to lead pages, users can have all the information they need in front of them.
Tools for Customer Support Teams
Tools for Customer Support Teams
Using Freshworks CRM, sales resources have access to virtually the full array of communication channels that a business could use to stay in touch with customers.
Channels that can be integrated into the CRM include:
Email
Phone (call logs and recordings)
Live chats
WhatsApp Business
Apple Business Chat
SMS
Although Freshworks CRM does not directly support ticketing and customer support features, organizations running a more informal support operation could use these integrations to help customers resolve issues.
Freshdesk
Additionally, the Freshworks CRM seamlessly integrates with Freshdesk, which is Freshworks' customer support system. The integration allows support tickets and agent annotations to populate into the corresponding customers' CRM records. Needless to say, when the sales team is aware of any issues the customer has been having, customer satisfaction is bound to improve.
Tools for Marketing Teams
Tools for Marketing Teams
Marketing Automation
Freshworks CRM contains a number of marketing automation tools which are designed to make it easier for marketing resources to work hand in hand with the sales team to nurture and convert leads.
These include:
A Segmentation Builder
Using Freshworks, customers can organize CRM leads according to qualification criteria thereby developing marketing segments that can be used for outbound marketing activities, such as mass email or SMS. Segmentation can be developed based upon customer data such as gender, income, or age—among other data held in the program.
Marketing Sequences

Using sales sequences, users can quickly and easily select a group of leads to enroll in an automated workflow. In order to use this feature, users simply need to click on the desired leads from the filter or leads view and then click on "add to sequence." Sequences can either be built according to classic rules or they can be "smart sequences" with touchpoints initiated in response to customer engagement actions.
Customization and Integrations
Customization and Integrations
Freshworks is a highly customizable CRM with a wide integration library that can be used to expand upon the basic functionality of the software. The list of programs that it can be integrated with includes:
Mailchimp for mass email marketing
Freshdesk for customer support, helpdesk, and ticketing
Google Calendar for appointment booking
Additionally customers can use Zapier to integrate the tool with even more cloud software programs.
Reporting and Dashboards
Reporting and Dashboards

Freshworks comes with a powerful analytics and dashboard generating engine that is capable of generating dashboards and reports based upon CRM data. Some of these are prepopulated while users are also free to create their own based upon data in the CRM. For instance, the prepopulated email dashboard provides a birds-eye overview of all outbound email activity including potential KPIs such as emails opened, unsubscribes, and emails bounced. Whether users are happy to rely upon prepopulated templates or want to pull together their own reports, there's plenty of functionality in the tool for users to play around with.
Mobile Options
Mobile Options
Freshworks has mobile apps available for both iOS and Android and these are available through the Google Play and Apple App Store. The mobile versions of the cloud application put the same powerful functionality in the hands of mobile salespeople. Currently Freshteam, the Android app, enjoys an average 4 and a half star rating in Google Play after more than 100 reviews.
Plans and Pricing
Plans and Pricing
Freshworks CRM can be purchased at 3 paid tiers: Growth, Pro, and Enterprise.
Pricing is as follows:
Tier
Growth
Pro
Enterprise
Best for
Sales teams with limited manpower and big ambitions
Key use
Sales pipeline tracking and lead scoring
Price
From $29 per user per month (Growth tier)
Free trial
21 days
Ease of Implementation and Use
Ease of Implementation and Use
Setting up Freshworks CRM is relatively easy even for small IT teams given the fact that the CRM is designed to 'live' in the cloud. First time users need to configure some basic variables about their business, including where they are based and their billing currency. Thereafter, the CRM is ready to use.
Customer Service
Customer Service
Those that need to reach out for support can contact Freshworks Support through its dedicated support URL. The team provides a support number and also operates a ticketing system to help users resolve issues. Many users, however, will be able to help themselves. This is thanks to the extensive library of video resources and text-based documentation that the team has put together. Topics covered range from setting up sales sequences through to configuring workflows and customizing layouts.
What Users Say About Freshworks
What Users Say About Freshworks
"Freshworks CRM (formerly Freshsales) is aptly named—a fresh and clean interface. It's a simple and easy-to-use CRM that stands out from the rest in both functionality and adoptability."
Aashray Patel, Partnerships and Marketing, Byond Travel
"Freshworks CRM (formerly Freshsales) helps us prioritize and focus on our opportunities. We're able to customize our pipeline, from deal stages to filters, unique to our business process. Other CRMs did not allow us to do this as intuitively and flexibly as Freshworks CRM does."
Brian Engles, CEO, Facilitron
"I looked at several CRM like Pipedrive, Insightly, Zoho, etc. In my research I found Freshworks CRM (formerly Freshsales) to be affordable and easy to implement, even for a small business like mine."
Steve Kolb, Owner and Lead Instructor, Drive
Bottom Line
Bottom Line
Freshworks CRM, formerly known as Freshsales, is an interesting option on the CRM market that is notable for the extent to which it leverages the power of machine learning and AI to optimize sales and marketing workflows. This versatile tool will put an extra unseen pair of hands to work to help your sales and marketing team make the most out of every day in the office—or on the road.