In a Nutshell
In a Nutshell
First American Home Warranty offers 2 home warranty plans that each cover more than the next, including a 'one day at a time' option on some coverages, for homeowners who are selling their homes. This company is best for those who want an extensive, personalized, and affordable plan.
Positive
May cover issues caused by rust and corrosion
Clearly lists elements that are not covered
Claims dispatched in as quickly as four hours
Negatives
$75-$100 service fee per item
Repairs only complete when parts are available
Highlights
Highlights
Repair jobs are dispatched to service contractors within 4 hours during regular business hours
Lower premiums for townhouses, mobile homes and condominiums
Plan includes pest control services in some areas
Coverage
Coverage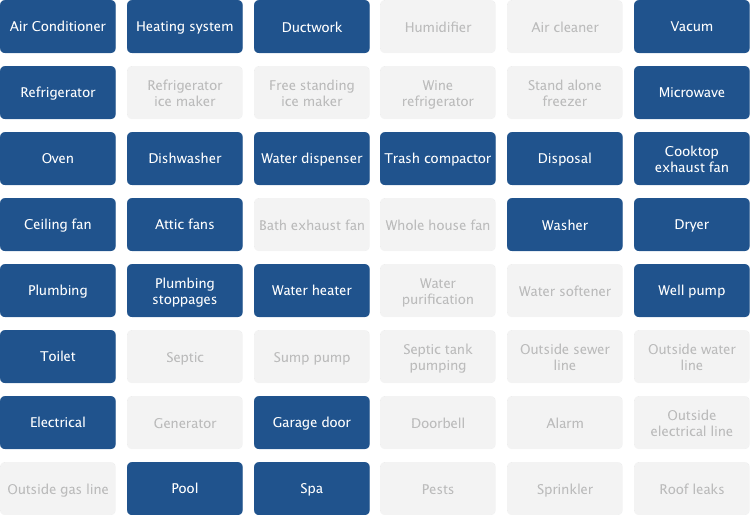 Warranty coverage from First American Home Warranty is dependent on geographic location, but regardless of where you live, coverage is solid. First American provides a 'Basic' plan and a 'Premier Plan', both of which can be supplemented with various options such as well pumps or additional refrigerators, if needed.
In some areas the plans include elements rarely included in most policies, such as pest control.
Basic
Covers most home appliances
Premier
Basic + major home systems
First class upgrade
Adds up to 35 additional items
Annual premiums range from $300-$486, depending on selected plan and options. Monthly premiums range from $28-$43.50 or more, also depending on selected plan and options.
Transparency
Transparency
Although it is not immediately obvious where to find them, there are sample contracts available on the First American Home Warranty website. These PDF copies are very well laid out and make it easy to see what is and what is not covered by your plan.
Reviews from homeowners, realtors and contractors are all featured on the site, discussing their experiences with First American Home Warranty. There are also links to other sites where both positive and negative reviews can be found, including the Better Business Bureau where First American Home Warranty is an accredited business.
Terms and Conditions
Terms and Conditions
In line with other warranty providers, First American Home Warranty excludes pre-existing conditions and failures caused by misuse or lack of maintenance. However, the sample contract reads "Our plans cover unknown conditions which can include rust, corrosion, sediment, problems resulting from lack of maintenance and much more," issues that are not covered by other companies. Also excluded is damage caused by "storms, war, riot, acts of God" etc, but again, this is in line with similar warranty companies.
Limits of liability dollar amounts vary greatly from item to item. For example, a toilet replacement is limited to $300 while heating is limited to $1,500 and a refrigerator to $2,500, but these limits are printed very clearly in the contract.
Contractors
Contractors
First American Home Warranty uses local contractors that are already established in their communities. This ensures faster service for the customer and the opportunity to build a trusting relationship with those that work on your home.
One unique program First American Home Warranty has implemented is a customer satisfaction survey which is used to monitor the performance of its contractors. If a contractor should receive consistently bad responses on the survey they are 'let go' from the program. Once your home is serviced, First American will warrant the contractor's work for 30 days.
Customer Service
Customer Service
The First American Home Warranty sample contract specifically addresses several elements of the customer service experience. Telephone service is available 24 hours a day and your service call will be dispatched to a contractor within as soon as 4 hours on a business day – unless it is an emergency. First American operates 4 claim centers and responds to around 1 million claims per year.
No written claim form is required before diagnosis of the issue, and if a properly qualified contractor is not available within the network locally, the company can give you authorization to hire your own contractor and will reimburse you.
Bottom Line
Bottom Line
If you are looking for a well established company that has a fast response time and offers a wide variety of coverage options, then First American Home Warranty is for you. The nationwide network of contractors and a 4-hour commitment means you won't be left waiting for days to have your issue addressed.
About First American Home Warranty
About First American Home Warranty
First American Home Warranty can trace its roots all the way back to Orange County California in 1889. It was founded on the principle of putting customers first. A small title company grew and eventually became First American Home Warranty Title and Trust Insurance Company in 1960. This company grew into a multinational financial company and in 1984 First American Home Warranty was created as a specialist sub-division. The company serviced around 1 million claims in 2016 and in the same year saved homeowners from paying $171 million.
Regions served: Nationwide
First American Home Warranty