In a Nutshell
In a Nutshell
Working with some of the best-known and most reliable loan providers in the industry, Credible makes it easy to find the right loan solution. It offers a flexible service with competitive rates and many loan options for borrowers looking to finance their degrees or refinance existing student loans. The service does not directly provide loans, but works with a network of reputable lenders to provide top rates and conditions for all borrowers.
Positive
Incredibly low rates
Marketplace of lenders competing for your loan
Negatives
Hard to get concrete information on loan terms and repayment
Not a direct Lender
Credible at a Glance
Credible at a Glance
APR
from1.92% (with autopay)*
Loan types
Private student loans and refinancing
Refinance amount
Up to 100% of outstanding debt amount
Repayment terms
5 to 20 years
Minimum credit score
None
Promotions
Best Rate Guarantee: $200 if you find a better rate elsewhere
Best for
Students looking to compare several options for loans or refinancing
Direct lender or marketplace
Marketplace
Credible's aim is to provide a view of all available options for borrowers to empower the best choice. The company prides itself on charging no fees and requiring no commitments to use the service. Furthermore, Credible's partner lenders accept loan applications for over 2,000 universities in the United States, and can offer student loans that cover entire attendance fees. With a modern approach to student loans, and outstanding customer service, Credible is an ideal solution for those who want to weigh their options.
Best for?
Best for?
Credible is not a direct lender, but rather a lending comparison service. This makes it an ideal service for borrowers who prefer more than one offer before jumping into a long-term loan agreement, and who have either private or federally backed student loans they'd like to refinance.
The Options
The company's partners provide some of the lowest interest rates—both fixed and variable—and flexible repayment terms, giving you a variety of choices to find a loan that will work with your finances. Because it offers loans that cover the full cost of college attendance, Credible is a good solution if you wish to complete your studies, but don't have the means to do so without assistance. If you prefer options and are looking for some of the lowest rates in the industry, Credible is a good choice for properly assessing your choices.
Loan Features
Loan Features
Credible service is user friendly. The company only requires you to fill out a single application form when getting started, instead of having to repeat the process for every lender you are interested in working with. By creating a competitive marketplace of lenders, Credible gives borrowers some of the most affordable rates available. Besides financing undergraduate studies, Credible provides borrowing solutions for graduate and professional degrees. Aside from offering loans, Credible can assist with refinancing both private and federal student loans.
Credible Student Loan Highlights
Credible Student Loan Highlights
Single application form for several loan options
Easy-to-understand dashboard for comparing offers
Discounted interest rates offered with auto-pay
Refinance both private and federal loans
Cover your full cost of attendance
Flexible repayment terms
Finance all kinds of degrees
No fees or hidden charges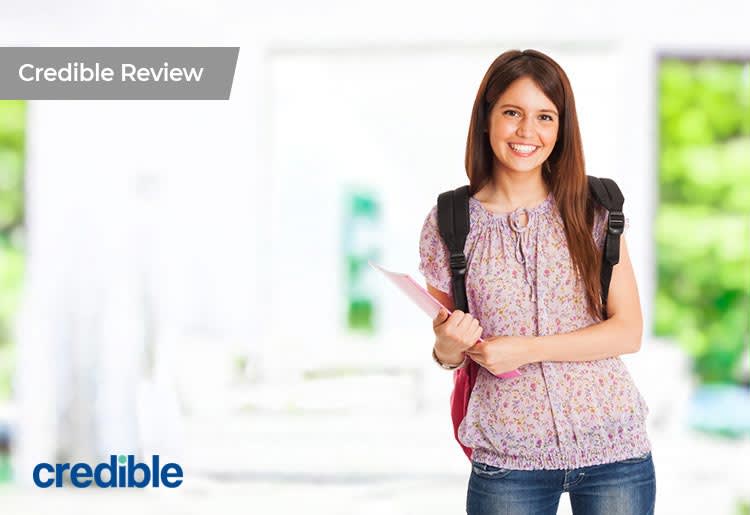 Credible's Process
Credible's Process
One area Credible has dedicated a significant amount of careful thought is its single form. Though it works with several partners to provide loans to users, Credible only requires that you fill out one application form once that can be used by all lenders to determine your creditworthiness and loan terms.
One thing that stands out is that your initial form can pre-qualify you for better rates without requiring a hard credit pull from lenders. Credible loan providers offer amounts that range from $1,000 up to the full cost of attendance for your university, although the available amounts may vary by lender.
When you apply, make sure to have the following information readily available:
Your school's information
Your social security number
Your current address
Income information for yourself and your co-signer
Residence details including if you rent or own your home, and your payment information
Requirements
Requirements
There's a lot to like about Credible's loan terms and conditions. Since it is a hub to connect lenders and borrowers, Credible can offer you an excellent choice of rates, amounts, and repayment terms that can fit your specific budget and financial circumstances. It does have some requirements for borrowers, though these vary from lender to lender.
Generally, most of the loan providers in Credible's network ask for the following:
Be enrolled at least half-time or have attended an eligible US educational program
Be 18 years or older, or provide a co-signer if you are not
Some lenders require you to hold US citizenship
Lenders may also examine other factors when determining your loan terms and your interest rates. However, most of Credible's partners welcome borrowers with little or no credit history, as long as they can provide a co-signer.
Getting Started
Getting Started
Credible does not require a great deal of sensitive information to get started with pairing you to a lender. The process of applying and being connected to the right loan provider is straightforward, with the application taking less than five minutes and the matching happening shortly thereafter. Once you are matched, your lender will ask you for further documentation and run a hard credit check to determine your eligibility along with the exact rates and terms.
Loan Rates
Loan Rates
Lenders partners with Credible's network offer both variable and fixed rate loans, with some even providing hybrid rates. Credible's interest rates are some of the most competitive in the industry.
Student Loans
The company's lenders can provide variable rates as low as 1.92% (with autopay)* and fixed rates starting at 2.70% (with autopay)*. Many of the lenders within the network offer discounts if you sign up for auto-pay. In some cases, the discount can take up to 0.50% off your interest rate, giving you an even more competitive rate.
Overall, Credible's terms and rates are versatile, making for an excellent student borrowing alternative. Additionally, they offer you the opportunity to lower your rates even further by signing up with a co-signer, or signing up for auto-pay.
Repayment Terms
Repayment Terms
Loan terms vary from provider to provider, but the shortest term available from any of Credible's partners is 5 years, while the longest possible is 20 years. However, there is a wide spectrum of possible terms depending on your credit needs and qualifications.
If you are looking for refinancing, loan terms stretch from 5 to 20 years as well. Credible delivers a great range of repayment terms to fit even the most modest budget, allowing you to choose a plan that will not put you in a short-term financial bind.
How Safe is It?
How Safe is It?
Credible understands that it works with customers' sensitive financial details. As such, it takes great care to protect your data. All applications are secured and encrypted, meaning your information is stored safe throughout the entire process. Your information is also held in servers that feature industry-standard security measures such as 256-bit encryption and Secure Sockets Layering technology.
Information Sharing
Credible does share your information with lenders until you choose to move forward with a specific lender and Credible never sells your data.
Help & Support
Help & Support
The quality of customer service delivered by Credible is noteworthy. Unlike many competitors, the company offers a live chat feature to accompany their more traditional channels of communication. This makes it easier to get questions answered, and the chat is staffed by knowledgeable representatives who are able to help with all questions promptly and with a friendly attitude. If you prefer, you can also reach Credible via telephone 7 days a week during business hours, or via e-mail, with the company aiming to respond to most requests within the same business day. Credible features an excellent FAQ section that answers most of the common questions regarding the service.
Credible places an emphasis on simplifying the student lending process. The loan marketplace model, working with known and reliable loan providers in the industry, working in customers' favors by forcing lenders to offer you the most competitive rates possible to win your borrowing business. Credible does not charge any fees or spring any hidden costs on you at any point and is transparent about how it makes money in the lending process. Besides responsive customer service, its FAQ section delivers the answers you might need. Overall, Credible offers a reliable, flexible, and good service for borrowers looking to finance their degrees or refinance existing student loans.
Physical Address
Physical Address
101 Green Street
Floor 2
San Francisco, California
94111
United States
*read rates and terms at credible.com
Credible Student Loans Review