In a Nutshell
In a Nutshell
We live in a world in which it's easier than ever to instantly uncover all types of information while browsing the internet. In this world, virtually all of us leave traces of our lives online that can be found and pieced together by a novice data researcher. This changes our basic understanding of privacy in the modern world.
Positive
Gives you unlimited background checks per month
Search for actual mugshots
Provides a single, easy-to-read report
Negatives
Unclear how much user data is collected or how it is used
Website does not make a guarantee to safeguard user security
No 24/7 customer service chat
The thing is, it's much better to have the help of professionals when you start sleuthing. Online background check companies have the tools and the know-how to find all types of information that you might not know how to find. Sites like CheckPeople have an entire tool kit at their disposal and serve as a sort of one-stop portal to find the information and answers you're looking for
Ideal For
Ideal For
Performing multiple background checks
Screening harassing phone numbers with reverse phone number lookup
Finding information on the "deep web"
Why Go With CheckPeople
Why Go With CheckPeople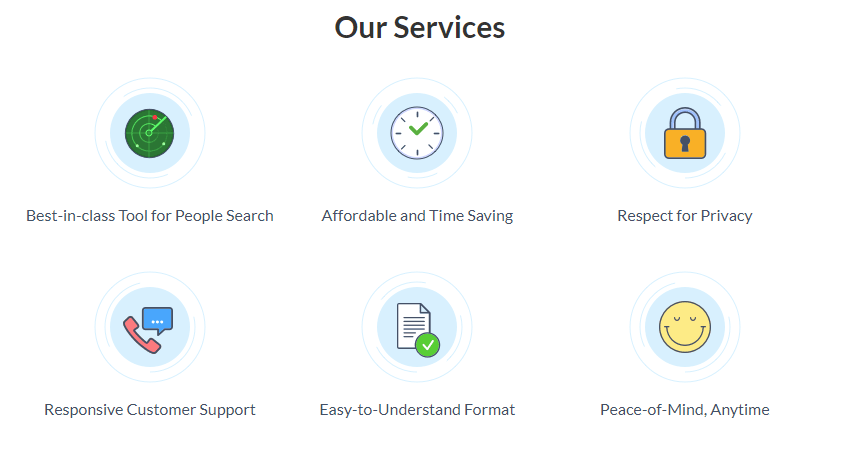 With so much data available online, it can get confusing knowing where to get started and how exactly to keep your records clrearly organized. With CheckPeople, customers receive a single comprehensive report that clearly lays out all of the findings made by the company, keeping things simple.
CheckPeople uses a series of public databases to find information for background checks, including all sorts of public records. The company also does deep web searches that can dig up old, forgotten social media accounts or blog posts, and dig up things that you may have thought were lost in the online ether.
You can also carry out a reverse phone lookup through CheckPeople which will give you details about harassing phone calls or telemarketers and help you manage incoming calls.
| Most popular (1 month of unlimited reports) | $27.65 per month |
| --- | --- |
| Most popular (1 month of unlimited reports) | $29.16 per month |
| Power Users (covers all report types and site features) | $4.95 per month |
Reports Offered
Reports Offered
Background checks – Combs through billions of public records to find information on criminal records and arrest records, current and previous contact details, court documents, marriage and birth certificates, former places of residence, and more. CheckPeople searches all types of county, state, federal, and municipal legal documents, providing you access to information including bankruptcy filings, personal injury and small claims court cases, legal rulings, and more.
Instant "deep web" search – CheckPeople uses a proprietary algorithm to search for hidden social media accounts, long-lost websites, blog posts, forum posts, images and more, to bring you information that may have been "lost" to the internet sands of time.
Reverse phone lookup – CheckPeople allows you to search for the names and addresses of suspicious or unknown callers. This can help you protect yourself and avoid unwanted phone calls.
Instant "deep web" search
Customize Search
Customize Search
When you search for someone on CheckPeople, you simply need their first and last name, and if possible, the city and state they currently live in. Chances are you will receive multiple results for the name, and it's up to you to determine which listing is the correct match for the person you're looking for. Typically, as long as you know the person's age you should be able to narrow down the list quickly.
Is it Legit?
Is it Legit?
CheckPeople's website includes a FAQ section. Unfortunately the company doesn't make any guarantees about your security or how and if the company might use your data. However, the company does say that it uses "commercially reasonable safeguards" to protect unauthorized access to your personal information.
It should be noted that if you're using CheckPeople—or any other background check company—you must comply with the Fair Credit Reporting Act. The FCRA prohibits the use of background checks for employment decisions or screening tenants.
How it Works
How it Works
CheckPeople uses its own proprietary algorithm to conduct deep online searches of public databases and online content in order to find reams of information on people.
One of the primary sources of information used are court documents that would show records of prior convictions, as well as any civil cases that the person may have been involved in, in the past. CheckPeople will also check for possible arrest records, and listings in sex offender databases. You can also search for "related people" to find associates that you might not have known the target had.
City and state documents can help you find property and business listings, as well as marriage and death records.
The company also casts a wide net across the internet, searching for all types of online content which include social media profiles and blog posts that people may have written years prior.
Put simply, CheckPeople and companies like it search all types of public legal records for information, searching in places that, left to your own devices, you might not have access to.
Ease of Use
Ease of Use
Part of what has made background check companies popular is that they are easy to use.
You simply sign up in a matter of minutes, and then use the search bar at the top of the screen to get started. The search bar has input fields for first name, last name, city, and state. Just enter your search targets info, and hit enter.
Unless the person has a very unique name, there should be multiple results. If you know your person's age and some of their address history, this will make it very easy to narrow down your search results.
Once you've selected a personal information profile you will be taken to a comprehensive report that will include all of the person's publicly available information on a single page. The profile can be printed out or emailed easily.The report should be easy for a novice to understand.
When performing a reverse number lookup, the same principles apply. Simply punch in the number in the search bar, and within moments you should be able to view your answer.
Help & Support
Help & Support
If you're trying to reach CheckPeople, you can contact them through an online email form. There is also a 24/7 toll free 800 number that you can use. Unfortunately, online chat services are not available.
The company also has an extensive FAQ section online that should sort out any questions you have about the service.
Bottom Line
Bottom Line
If you're looking to find information about someone in your life—or in your past—CheckPeople can be a great tool for finding the details you need to make important decisions about the people you interact with.
To put it simply, the company offers solid search tools that give customers access to all types of public records that they compile in an easy to read single report. You could run your own public records searches, but would you have the time and know how to get reliable results? CheckPeople has the know-how and tools that can do the legwork for you.
About CheckPeople
About CheckPeople
According to CheckPeople, the company was founded in order to "put your mind at ease knowing exactly who you are dealing with."
The company was founded by a team of people with over 20 years of experience in internet businesses who wanted to start an "intuitive, easy to use service that allows people to conduct affordable background searches in a format that is simple to use and understand."
CheckPeople has received mixed reviews from users, and some of its assurances about security are not as ironclad as other companies. In addition, their pricing structure presents a rather short list of options.
Nonetheless, the service can help simplify a fact-finding mission, give you the tools to access hard to find information,and put it together in an easy-to-read report.
Phone Number
Phone Number
1-800-267-2122