In a Nutshell
In a Nutshell
AFC Home Club distinguishes itself by including additional lifestyle benefits in its home warranty plans. Customers can earn rewards including online retail benefits and Resturant.com gift cards, and can enjoy the peace of mind that comes with the Emergency Alert Network. All of this on top of an extensive contractor network and one of the industry's highest claim limits have earned AFC top ratings.
Positive
No home inspection required before joining
Appointments set within 8 hours
Work is guaranteed for the life of your plan
Negatives
Limited terms & conditions info
Little maintenance requirement details
Highlights
Highlights
$2,000 claim limit per appliance – higher than most competitors
No coverage caps on HVAC systems
Additional benefits such as the Retail Rebate & Restaurant.com programs
Contractor appointments made within 8 hours
Coverage
Coverage
AFC Home Club offers 3 basic levels of home warranty – Bronze, Silver and Gold. All plans include the Retail Buyers Rebate scheme, the Restaurants.com program and the emergency alert network.
A basic Bronze plan covers only a water heater, air conditioning and heating systems. This is a solid option for landlords whose tenants have their own appliances. The Silver plan is a more appliance-based plan that covers essential appliances such as the washer and dryer, oven, range, dishwasher etc.
The Gold plan is the company's most comprehensive option. It includes not only the basic systems and appliances from the Bronze and Silver plans but also major home systems such as the telephone, electrical and plumbing systems. Additional items such as septic tanks can be added to any plan for an additional premium.
Terms and Conditions
Terms and Conditions
Full terms and conditions are not explicitly laid out on the AFC website but information about some areas can be found in the FAQ section. For example – there is a $75, $100, or $125 service fee, pre-existing conditions are not covered, and there is a plan claims limit of $2,000 per appliance.
In order to obtain a full policy with terms and conditions laid out, you must contact customer service.
Packages and Plans
Packages and Plans
| | Gold Plan | Silver Plan | Bronze Plan |
| --- | --- | --- | --- |
| Dryer | ✔ | ✔ | |
| Washer | ✔ | ✔ | |
| Refrigerator | ✔ | ✔ | |
| Water Heater | ✔ | ✔ | ✔ |
| Oven | ✔ | ✔ | |
| Range | ✔ | ✔ | |
| Stove | ✔ | ✔ | |
| Dishwasher | ✔ | ✔ | |
| Garbage Disposal | ✔ | ✔ | |
| Garage Door Opener | ✔ | ✔ | |
| Air Conditioning | ✔ | | ✔ – 1 UNIT |
| Heating | ✔ | | ✔ |
| Electrical | ✔ | | |
| Plumbing | ✔ | | |
| Ductwork | ✔ | | |
| Telephone Wiring | ✔ | | |
Additional Coverage Options are available for extra fees:
Pools, spas, sump pumps, vacuums, stand-alone freezers, septic systems and specialized duplex, triplex, quadplex protection.
Pricing is entirely quote-based. Factors that will affect the price of a quote include house size, property type, and state. Service charges can be $75, $100, or $125 per call-out, and vary by state.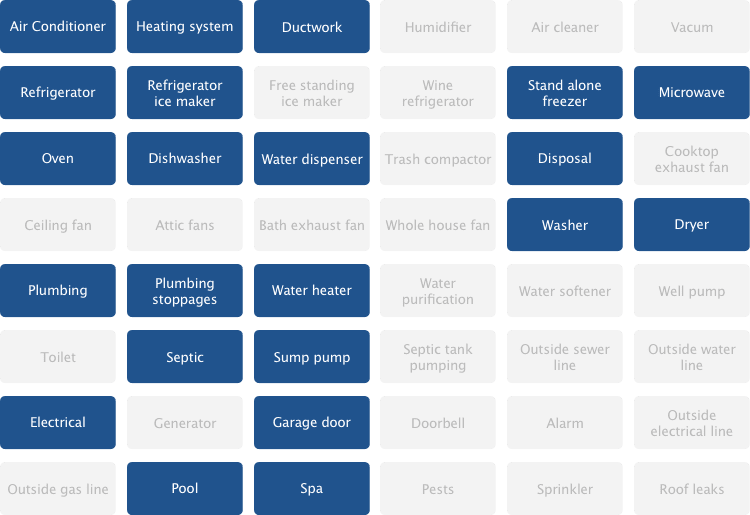 Customer Service
Customer Service
AFC has a well thought-out website with a great deal of information about the company. Warranty holders can submit claims by telephone 24/7 or by using the online claim form.
Whichever way you submit a claim, AFC makes a commitment to having an authorized service center contact you within 8 hours, during normal business hours, and arrange for a mutually convenient appointment time. Many of the customer reviews on its site and on other sites mention the fast and efficient service received.
The AFC Home Club website also has an FAQ section and reviews from existing customers.
Contractors
Contractors
An extensive network of local, well established contractors is available to speedily meet customer needs. Committed to customer satisfaction, AFC Home Club uses trusted contractors that are often already known to the warranty holder.
A number of reviews from around the web mention how happy customers have been to open the door and to find themselves face-to-face with a local contractor they have used previously – before taking out an AFC warranty.
Transparency
Transparency
America's First Choice Home Club prominently displays its 'Better Business Bureau' membership and 'B' rating. When you visit the Better Business Bureau you can read user reviews and view the comments made by AFC Home Club in response. The company is reported to make every effort to resolve all issues and is happy for potential customers to read about events that didn't go as well as they should have. There is also a reviews section on the AFC Home Club website.
Bottom Line
Bottom Line
America's First Choice Home Club is unique in not requiring personal details to obtain a quote. With its 'Better Business Bureau' accreditation, the retail benefits program, emergency alert network, and Restaurant.com gift card program, AFC Home Club offers many additional benefits not found with other home warranty companies. The company also takes the time to openly address customer dissatisfaction detailed on the Better Business Bureau site.
About America's First Choice Home Club
About America's First Choice Home Club
America's First Choice Home Club was founded by a group of experienced home warranty professionals who wanted to provide a better kind of service and ensure their customers never had to worry about the costs of home repairs. A Better Business Bureau accredited business since Feb 2015, AFC Home Club has made a commitment to put their customers' experiences at the top of their list of priorities.
Regions served: United States