In a Nutshell
In a Nutshell
3dcart's all-in-one software has everything you need to build your online store. From managing your inventory, to processing payments and shipping, and with some great themes and marketing tools.
Positive
100+ payment gateways
Advanced SEO tools
Negatives
Basic plan is limited
Free themes are one-dimensional
Why Go With 3dcart
Why Go With 3dcart
Instead of having to use different platforms for separate parts of running your Ecommerce business, you can run your whole online sales company with one platform. Integrate your marketing activities and accurately and instantly track the effects of your campaigns. The Basic package is robust and offers all the (many) features needed, and there are also Plus, Pro and Enterprise plans meaning you can scale your business without having to switch platforms.
No coding is required, the interface is similar to that of WordPress, and everything can be run from a central dashboard. There is also a chatbot that accompanies you through the setup, explaining what each section is, along with instructional videos to help get you started.
What's On Offer
What's On Offer
One platform offering storefront, back-end, payments and shipping
Incorporates SEO optimization
Marketing tools included in the platform
Responsive: mobile-ready
No software installation: signup and start building your store
Wide range of customization options, including free themes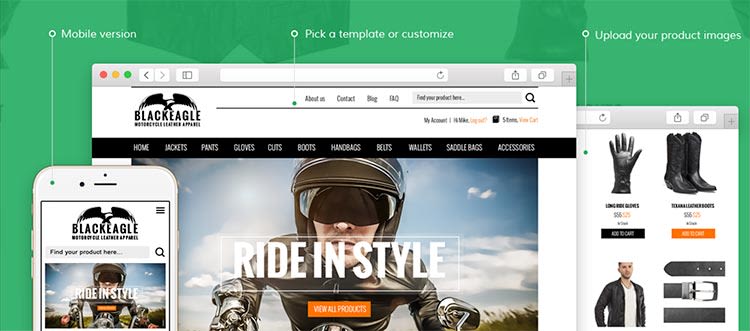 Customization
Customization
Customization options for 3dcart are impressive, and the standard options should suffice for most store owners. For those wanting to further customize the existing templates and themes, some HTML and CSS knowledge will be necessary. However, there is a theme for most types of businesses, and choosing color schemes is relatively easy. It can get slightly complicated as you preview your selected theme, so we suggest installing a theme fully, and opening up your actual Ecommerce site in a new tab, where you can monitor changes by refreshing periodically.
In addition to these key areas, the platform also offers ease-of-use combined with powerful tools. For example, its simple to offer discounts and coupons, or create group deals. Similarly, SEO tools come built-in, including critical elements such as custom URLs, dynamic meta tags, and link titles. The platform supports pretty much every credit card and payment gateway, including PayPal, Apple Pay, Pay with Amazon, Masterpass and Visa Checkout.
Payment processing is also simple, and the pre-installed integrations of solutions such as Stripe, Square, Amazon Payments and PayPal make life a lot easier. You can set up these systems easily through the dashboard, in the same place where you would customize your site in other ways.
SEO Tools
SEO Tools
Further benefits for users with the latest update, is the brand new Core Template Engine, that includes Google's recommendations and the latest industry standards. It takes all SEO standards, mobile optimization, and PageSpeed considerations into account. The new and improved template engine will help users see better layouts, faster page load speeds and results.
Secure Hosting
Secure Hosting
Secure hosting is one of the main reasons to use 3dcart. Standard is 256Bit SSL certificate, Level 1 PCI Hosting (the same used by banks and large financial institutions), and daily backups. You'll get 99.94% uptime and monitoring of your site 24/7. It also features the ability to block specific IP's if and when necessary, and to configure site-wide HTTPS.
3dcart's pricing ranges from just $19/month to $229/month. All packages contain most of the standard, powerful features, with the big difference being CRM features and other marketing-related add-ons that are not available for the more entry-level packages.
| Package | Monthly price | Staff users | Products |
| --- | --- | --- | --- |
| Startup | $19 | 1 | 100 |
| Basic | $29 | 2 | Unlimited |
| Plus | $79 | 5 | Unlimited |
| Pro | $229 | 15 | Unlimited |
Customer Support Services
Customer Support Services
Great customer support is another one of 3dcart's advantages. The company promises expert support 24 hours/day, 7 days/week; with a support ticket system, phone call, or live chat. There are also numerous online resources, including many videos, that can help solve specific problems.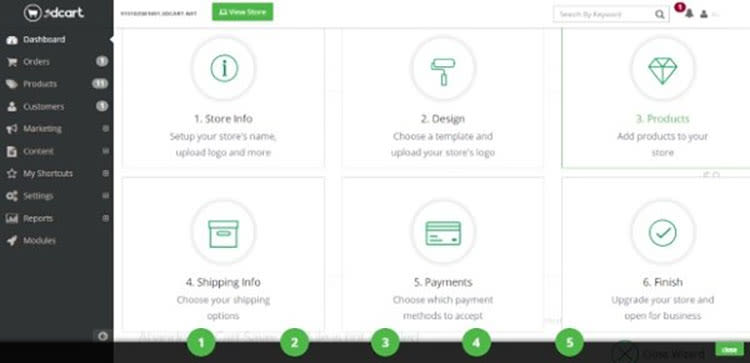 Scalability
Scalability
3dcart guarantees business owners that their existing package will grow with them, ensuring you will never need to change Ecommerce solutions. The Enterprise solution designed specifically for high-volume stores is SaaS based and PCI certified, meaning you get all the infrastructure and support without the headaches often associated with scaling up. You are in complete control of your online store as you grow, and can easily add unlimited employees to your user admin and adjust accessibility as necessary. As with other 3dcart packages, the Enterprise solution includes fast site performance, unlimited disk space and email hosting, further assisting you as your business grows.
Conclusion
Conclusion
An all-in-one platform, that offers powerful features as standard and is easy to use and scale with – available at a price that offers real value for money. With 3dcart, your site can be ready in seconds, and marketing and SEO optimization can be done with a few clicks. It's secure, reliable and lets you scale quickly, as well as being easy to use. Its customization options are impressive, and 3dcart's support credentials are impressive.
3dcart is suitable for anyone; whether you're just starting out, or are an enterprise with millions of dollars in revenue.
About 3dcart
About 3dcart
3dcart was established by Gonzalo Gil, and was originally supposed to be one platform with all the most requested Ecommerce features, for medium to large businesses. The business has grown substantially over its 20 years in business, and has supported over $4 billion worth of transactions worldwide.